ITTO and JICA strengthen collaboration on tropical forests
Tokyo, Japan, 27 July 2017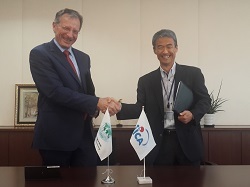 ITTO and the Japan International Cooperation Agency (JICA) have agreed to increase their collaboration on the conservation of tropical forests worldwide through specific collaborative activities in the remainder of 2017 and in 2018. Gerhard Dieterle, ITTO Executive Director, and Kunihiro Yamauchi, Director General of JICA's Global Environment Department, signed the agreement on joint activities on 27 July 2017 under a previously established cooperation framework.
Joint ITTO/JICA activities for 2017–2018 will include:
Promotion of the International Conference on Forest Conservation using Forest Early Warning Systems, to take place in Tokyo, Japan, on 24–25 October 2017.
The organization of joint events on knowledge sharing and capacity building at international fora, such as:

The 23rd and 24th Conferences of the Parties (COPs) to the United Nations Framework Convention on Climate Change. For COP 23, to be held in Bonn, Germany, in November 2017, the joint event will highlight international efforts on the sustainable management of mangrove ecosystems.
FAO's Committee on Forestry, to be held in June/July 2018.
COP 14 of the Convention on Biological Diversity, to be held in Egypt in 2018.

Cooperation in knowledge management through interoffice exchanges, the production and distribution of joint publications, ITTO's participation in the Japan Public–Private Platform for REDD+, and capacity building for JICA's international trainees through lectures provided by ITTO.
"JICA has long worked for forest conservation and recently REDD+ with many tropical countries, but it is recognizing a need to work with the private sector in increasing the sustainable use of tropical forests with enhanced productivity," said Mr Yamauchi.
In promoting productive tropical forests, Dr Dieterle said that the partnership with JICA could have a catalytic effect by improving timber tracking systems, enhancing good governance and forest law enforcement, and bringing more transparency to the tropical timber trade.
"Integrating the diversified needs of developing countries into a project and linking such a project for a bigger impact is a challenge," said Ms Noriko Suzuki, JICA Senior Vice President. She looked forward, she said, to increasing cooperation with ITTO to build capacity in tropical countries on the conservation and sustainable use of tropical forests.
The joint efforts of ITTO and JICA will support the achievement of the Sustainable Development Goals in the tropics through sustainable forest management.