Celebrating International Day of Mangroves with a new publication
26 July 2016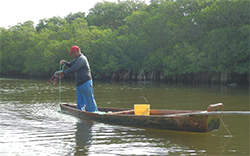 26 July is the
International Day for the Conservation of the Mangrove Ecosystem
, as adopted by the General Conference of UNESCO, underlining the importance of mangroves as "a unique, special and vulnerable ecosystem, providing by virtue of their existence, biomass and productivity substantial benefits to human beings, providing forestry, fishery goods and services as well as contributing to the protection of the coastline and being particularly relevant in terms of mitigation of the effects of climate change and food security for local communities."
ITTO has been working on conservation and sustainable management of mangroves for almost 30 years through field projects and policy work. On this special day, ITTO releases a new publication on mangroves produced under the project
RED-PD 045/11 Rev.2 (M)
, entitled
Conociendo los manglares, las selvas inundables y los humedales herbáceos
("Knowing mangroves, flooded forests and herbaceous wetlands"), available in Spanish only.
The publication is a practical manual that compiles species information, structure of the ecosystems, their distribution, population dynamics, state of conservation and the associated legislation that regulates their conservation and use in Mexico. It has been written in a simple and friendly manner so as to facilitate its understanding by all kinds of audience, and contains a comprehensive collection of photographs that greatly illustrate these ecosystems.
Further work conducted under the
project
, consists of a quantitative assessment of the goods and services provided by mangroves, flooded forests, wetlands, rain forests and scrub forests on dunes, such as flood containment, carbon sequestration, improved water quality, and accelerated regeneration. Outputs are available from
ITTO's project search,
including six technical publications, 28 maps, eight papers published in scientific journals, 13 thesis for advance university degree, posters and leaflets. Two videos available in Spanish only from
ITTO YouTube channel
,
¿Qué es la conectividad?
("What is connectivity?") and
Servicios ecosistémicos de los bosques y selvas de Veracruz
("Ecosystem services of the coastal forests of Veracruz").
Mangroves are located in the tropics and mark the transition between sea and land, providing a wide range of goods and services, such as protection and resilience of local populations from adverse effects from climate change and sustaining healthy fisheries, an important source of income for coastal populations. For these and other important reasons ITTO is fully engaged in the conservation and sustainable management of these unique ecosystems. Other mangrove-related initiatives by ITTO include: