ITTO contributes in strengthening integrated fire management in the tropical forests of Panama
23 June 2016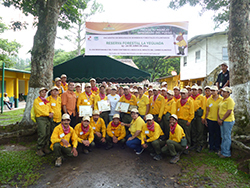 The ITTO funded project
PD 441/07 Rev.2 (F)
implemented by
Panama's Ministry of Environment
has strengthened the country's capacities in prevention, management and control of forest fires. The project implemented integrated fire management practices with the participation of local communities and grassroots organizations.
On 10 June 2016, the Ministry of Environment jointly with ITTO inaugurated
a brand new lookout tower
, built by the project, for fire monitoring and control.
In Panama three-quarters of the poor and 85% of the extremely poor live in rural areas; poverty is most severe among indigenous communities, and the pressure exerted by poor communities on natural resources causes deforestation and, ultimately, reduces the quality of life of local people. The main cause of deforestation is clearing for subsistence agriculture and cattle-raising, both of which use fire as a means of eliminating forest cover. In the last 15 years a total of 5,136 forest fires have been registered in the country, affecting an area of almost 82,000 ha. In view of this, Panama sought the support of ITTO for the implementation of the project entitled
"Institutional strengthening of ANAM for integrated fire management in the tropical forests of Panama"
with the aim of improving fire management in the country through community participation. Specifically, the project developed techniques to help resolve problems associated with the devastation caused by forest fire, taking into account the cultural values of communities within a framework of natural resource protection, environmental conservation and national policy guidelines, through two main components:
1. - Installed capacity for integrated fire management:
The project selected three pilot areas, based on the high incidence of forest fires, namely Guacamaya Mount Hydrological Reserve (
Reserva Hídrica Cerro Guacamaya
), El Montuoso Forest Reserve, and the Buenos Aires Community in Ñurum, where forest brigades were established and trained. Baseline data was generated for each area containing information on climate, geology, geomorphology, hydrogeology, flora, fauna, hydrology and land use. Three fire lookout towers were constructed, along with additional 18 km of firebreaks. A registry of forest fires was established, so that forest fires statistics could be maintained, and a nationwide system for early-warnings was put in place.
2. - Training personnel on integrated fire management practices:
Twenty-two courses were provided covering the subjects of fire-fighting, fire prevention, assessment of damaged caused by forest fires, assessment and quantification of combustible material in the forest, and first aid. Training manuals on these subjects were produced and published and are available (in Spanish only) through the
ITTO's project search function
.
In addition a total of 18 hectares of forests degraded by fires were rehabilitated with native tree species, and educational workshops on forest fire prevention were crafted and delivered at local schools, training a total of 2,148 people, raising awareness and changing behaviours in participating communities on the integrated use of fire, through the application of prevention and control techniques to mitigate the negative effects of fire and to use it to support the conservation of natural resources.
Sustainability of project outcomes and impacts has been assured by a strong commitment of Panama's Ministry of Environment along highly motivated brigades of environmental volunteers and forest firefighters, in coordination with community's council in each of the pilot areas, for continuous patrolling, surveillance and firebreak construction activities during dry seasons as forest-fire prevention measures.