Indonesia and EU ready to move on FLEGT licensing
28 April 2016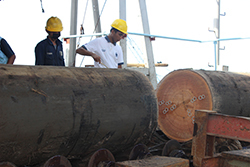 Indonesian President Joko Widodo, European Commission President Jean-Claude Juncker, and European Council President Donald Tusk agreed on 21 April 2016 to move swiftly towards promoting trade in legally produced timber between the European Union (EU) and Indonesia through the start of the first-ever Forest Law Enforcement, Governance and Trade (FLEGT) licensing scheme. The market effects of the scheme are being monitored by the FLEGT Independent Market Monitoring (IMM) mechanism, a multi-year project supervised by ITTO and financed by the EU.
The announcement follows a joint assessment, which found that Indonesia is fully ready to implement the Indonesia–EU Voluntary Partnership Agreement (VPA), based on the inclusion of all relevant product groups in the scope of the VPA.
The EU can now proceed to complete the necessary procedures to make Indonesia's FLEGT licensing scheme fully operational. When these procedures are complete, the Indonesia–EU Joint Implementation Committee will recommend a date for FLEGT licensing to start, expected later in 2016, making Indonesia the first country to deliver licensed timber.
FLEGT-licensed products automatically meet the requirements of the EU Timber Regulation, which prohibits EU operators from placing illegally harvested timber and timber products on the EU market. With mandatory checks of the timber legality assurance system that meet international market requirements in place, the Government of Indonesia expects timber product exports to increase, delivering more rural jobs, income and growth.
With EU support and in coordination with the Indonesian FLEGT Licensing authorities, the FLEGT Independent Market Monitoring (IMM) mechanism, which is supervised by ITTO and financed by the EU, is responsible for regularly assessing the impact of licensing on trade from Indonesia and the other 14 tropical countries engaged in the FLEGT VPA process.
Benefitting from significant support from the European Commission and EU Member States, the FLEGT VPA in Indonesia has strengthened forest governance by increasing transparency, accountability and stakeholder participation in decisions about forests. It has boosted legal trade, modernized and formalized Indonesia's forest sector, and improved business practices, enabling many thousands of businesses to meet market demand for legal timber.
With EU support, Indonesia has trained nearly 15 000 local government supervisors, sustainable forest management technicians, staff at regional forest management offices, and village heads. Indonesia has used its timber legality assurance system to audit the legality of more than 20 million hectares of forests and more than 1700 forest industries, an unprecedented level of scrutiny.
Now over 90% of Indonesian timber exports come from independently audited factories and forests, and the remainder will be audited in the coming months. To ensure that small businesses such as furniture-makers are not left out, Indonesia allocated 7 billion rupiah in 2015 to help more than 1200 small and medium-sized enterprises become certified legal under the timber legality assurance system. To date, 93% of Indonesia's small and medium-sized furniture exporters have been certified legal, enabling them to export their products to an increasingly discerning international market.
Indonesia is one of the world's largest producers of tropical timber, accounting for around 17% of the global value of tropical timber trade in 2013, according to the IMM Baseline Report. The country exports a wide variety of timber products, ranging from sawnwood, plywood, pulp and paper to furniture and handicrafts. The majority of Indonesian forest product exports are to China, Japan, the Republic of Korea and the EU. In 2014, the EU accounted for 8.9% of the value of all timber product exports from Indonesia, up from 8.4% in 2013.
EU imports of wood and wood furniture from Indonesia in 2015 had a value of €803 million, 17% higher than in 2014. In 2015, Indonesia was the second-largest tropical supplier of wood and wood furniture products to the EU, just behind Viet Nam (which supplied wood and wood furniture products worth €805 million), and it accounted for 21% of all EU imports from tropical countries.
Click here for more details
.