Improving forest products statistics in the Caribbean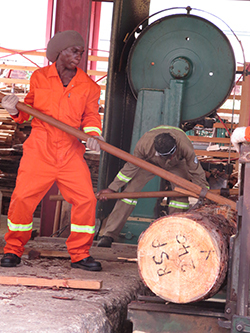 ITTO, FAO and the Centre for Agriculture and Biosciences International (CABI) held a regional workshop on forest products statistics for the Caribbean region in Saint Augustine, Trinidad and Tobago, on 12–14 April 2016. The aim of the workshop was to strengthen the statistical collection, analysis and reporting abilities of countries in the region. Participants came from Antigua and Barbuda, Bahamas, Barbados, Belize, Dominica, Grenada, Guyana, Haiti, Jamaica, Saint Kitts and Nevis, Saint Lucia, Saint Vincent and the Grenadines, Suriname and Trinidad and Tobago.
At the workshop, participants described their countries' forest sectors and the challenges they faced when reporting on forest products. Forest sectors in the region are characterized by low value adding, and most countries (Guyana and Suriname being exceptions) are net importers of forest products. Wood energy does not play a key role in the Caribbean, except in Haiti, where most roundwood production is used locally for charcoal.
ITTO and FAO made presentations to clarify the definitions, classifications and other aspects of the Joint Forest Sector Questionnaire, and country groups were formed to make recommendations for improving forest products statistics subregionally. Strengthening relationships between key ministries such as forest departments, customs offices and national statistical offices was identified as a key need; stronger cooperation would allow better reporting and greater understanding of statistical requirements at the international level.
The workshop included a field trip to a sawmill (Ramsa Sawmill Products Ltd) that processes pine and teak roundwood for sawnwood and mouldings. Workshop participants were able to query the sawmill owner, Mr Seesahai Ramsahai, on the statistical and reporting procedures required by the Government of Trinidad and Tobago. The visit also demonstrated the various stages of processing roundwood into value-added products.
Overall, the workshop provided an opportunity to strengthen international collaboration on data collection on wood products, and it reinforced the joint effort of ITTO and FAO to improve data quality in the region.
For more information contact:
itto@itto.int