ITTO launches website on lesser-used tropical timber species
4 January 2016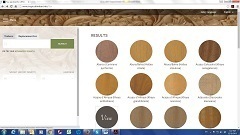 ITTO recently launched a website dedicated to expanding the use of lesser-used tropical timber species. The aim of
tropicaltimber.info
is to facilitate access to existing technical information on species' availability, wood properties, uses and processing into value-added wood products. The website is targeted at timber businesses and consumers worldwide.
Tropicaltimber.info
enables smart searches of:
tropical timber species by use, properties and substitution;
timber availability and sourcing;
tree and wood identification;
species distribution and abundance; and
replacement or substitution of well-known species.
Tropicaltimber.info
also contains information and contacts for producers and consumers, including:
a virtual technical library and classic publications;
a multilingual search facility for ITTO projects and links to ITTO statistics and publications; and
consumer tips and education.
The site contains data on 984 tropical timber species from all the tropical regions. It also boasts newly compiled market development profiles of 60 timber species from tropical America demonstrating the following features:
tree identification photos, silvicultural information, non-timber uses and local timber uses;
digital maps of the geographic distribution of timber species in natural forests;
a list of certified forest producers offering species shown on the map (with five initial participants); and
applicable CITES restrictions and data on timber abundance, where available.
Tropicaltimber.info
is an outcome of Activity 33 of ITTO's Biennial Work Programme 2013–2014, which aimed to leverage existing information gained in ITTO-funded projects to help fill knowledge gaps and meet the information needs of the tropical timber industry (as indicated by a global survey conducted in 2013). The website, which makes use of information from many
institutions
, is designed to evolve into a vehicle of mutual learning, cooperation and participation for ITTO and its stakeholders and partners at all levels. It will support the outreach efforts of partners and collaborators with aligned interests and promote their initiatives along the value chain of sustainably managed tropical forests.
For more information go to
www.itto.int
or
www.tropicaltimber.info
.