New ITTO project video demonstrates implementation of a comprehensive electronic forest information system in Guatemala
23 June 2015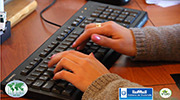 Determining the legality of forest products and implementing monitoring mechanisms that promote legal forest practices has been a challenge for many tropical timber producing countries, such as Guatemala. The National Forest Institute (INAB) of Guatemala has recently released a
video
showcasing the
Electronic Forest Enterprises Information System
(
SEINEF
), being implemented through the ITTO project
TMT-PD004/11 Rev.2 (M)
. SEINEF is a traceability system for registering, monitoring and controlling the flow of forest products through companies that are legally established and registered in the country.
Based on standardized data collection, SEINEF can provide accurate and reliable on-time data on stock inventories, yield levels, and diversity of forest products and species. SEINEF is an innovative tool designed for use by enterprises of all sizes, from the small (e.g. carpentry workshops, furniture factories and timber warehouses) to the very large (forest corporations and exporters). SEINEF provides these users with a wide range of services, such as the digitization and review of their regular reports, the verification of supporting documentation on inventory entries and exits, and analysis of yield levels and internal flows. A direct benefit for businesses is a reduction in the time and cost in obtaining forest-related authorizations.
Furthermore, SEINEF has standardized the timber transport documentation for all industries, known as the "company bill of transport", generated electronically when the applicant meets the requirements and procedures established by the national laws and regulations, thus facilitating traceability and verifications for ensuring the legality of forest products.
The video is available in
English
and
Spanish