International symposium on illegal logging closes with call for consumers and producers to use legal timber
19 June 2015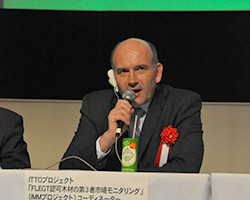 The International Tropical Timber Organization (ITTO) co-organized an
International Symposium to Combat Illegal Logging and Associated Trade
with the "Committee for Wood Utilization Caravan to Bridge Forest and City of Japan" at the United Nations University in Tokyo, Japan on the 12 June 2015. The Symposium was sponsored by the Forestry Agency of Japan and aimed at exploring opportunities and challenges to further reduce illegal logging and to promote trade in legally harvested timber products.
Information on the status of legality assurance measures taken by major timber-importing countries were presented at the symposium. Japan presented the
Goho-wood
(a term used to signify "legal wood") verification system which includes three types of verification for the private sector: the utilization of sustainable forest management (SFM) certification; chain of custody (CoC) verification; and finally legality verification by the individual company's own systems. A summary of other international initiatives was also presented, including the EU's EUTR (European Union Timber Regulation), which emphasizes the importance of minimizing the risk of placing illegal timber in the market, requiring importers to exercise "due diligence" in this regard.
The symposium also received a report on actions taken by Indonesia, including its TLAS/SVLK (Timber Legality Assurance System) which deems timber as legal when its origin and production processes, transport and trade activities are verified as meeting all applicable Indonesian laws and regulations. TLAS/SLVK has proven successful in undertaking a high number of legality verifications in the country.
Also discussed were opportunities and challenges for further reducing illegal logging in the tropics, enhancing legality assurance for tropical timber and timber products and contributing to the promotion of trade in legally harvested, processed and traded tropical timber at international, regional and national levels.
In closing, participants acknowledged that while attitudes towards legally verified timber are changing, lack of information to the end consumer is making it difficult to achieve price premiums for legal timber to offset the higher costs of producing it. It is a collective hope that both timber producing and consuming countries will play a pivotal and positive role in an ITTO forum on combating illegal logging and trade in illegal timber, in order for ITTO to increase its support and efforts in assisting tropical timber producer countries to combat illegal logging and enhance the legality of tropical timber and timber products produced and traded.
More information on the symposium is available on the ITTO website
http://www.itto.int/workshop_detail/id=4352