Approaching the issue of illegal logging and associated trade
12 June 2015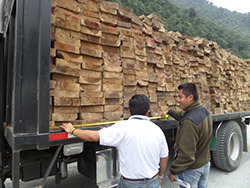 Approximately 300 participants have congregated at the United Nations University in Tokyo, Japan to discuss the issue of illegal logging and trade in tropical timber. The International Symposium to Combat Illegal Logging and Associated Trade, which opens on 12th of June 2015, will allow participants to explore further actions on combatting illegal logging and in promoting credible timber legality assurances. The symposium is being organized by the "Committee for Wood Utilization Caravan to Bridge Forest and City of Japan" in cooperation with ITTO and is sponsored by the Forestry Agency of Japan.
In the 1980s, illegal logging and trade in tropical timber came to the attention of the international community as one of the causes of tropical deforestation and forest degradation. Since then, and as a result of international efforts including the G8 Programme on Forests initiated in 1998 and the Asia Forest Partnership launched in 2002 by Indonesia and Japan and supported by international non-governmental organizations, both importing and exporting countries have worked considerably in reducing illegal logging and ensuring the quality of timber products. Despite these efforts and implementations made by the international community, recent reports have shown that the trade of illegal timber and timber products is an ongoing problem, especially in local tropical markets. It is clear that there is a need for international deliberation and cooperation.
ITTO is acutely aware of and active in regards to the compelling need for evidence of legality and sustainability within the timber trade market with the establishment of the thematic programmes on Forest Law Enforcement Governance and Trade (TFLET) and Trade and Market Transparency (TMT), the ITTO-CITES programme and the Independent market monitoring of FLEGT-licensed timber (IMM).
Furthermore, one ITTO funded project is investigating DNA fingerprinting to aid traders and governments in meeting legality requirements, and another project is helping to develop legal procurement procedures and policies of timber as well as an information-sharing platform to promote effective communication with relevant government parties on policy and market developments in countries such as Ecuador and Guatemala. Additionally, major timber-importing countries including Australia, the European Union, Japan and the United States, all of which are ITTO members, have introduced timber procurement policies and legality assurance measures which ensure the importation and use of legally obtained timber. In response to this international concern, many timber-exporting countries such as Cameroon, the Central African Republic, the Republic of the Congo, Ghana, Indonesia and Liberia have also established timber legality assurance measures and have collaborated with timber-importing countries. While the road may be long, steps are being taken in a positive direction to explore the challenges and opportunities to reduce illegal logging.
The symposium will include discussions on the following:
• Actions taken at international level to reduce illegal logging and trade;
• Outlook of actions taken by major timber-importing countries on legality assurance; and
• Actions taken by timber-exporting countries on meeting legality assurance requirements.
The projected outcomes of this symposium are:
• An increased awareness of progress and achievements in reducing illegal logging in both tropical timber-importing and exporting countries; and
• A greater recognition of the opportunities and challenges for further action to address illegal logging.
For more information on ITTO and its work on reducing illegal logging and associated trade, visit http://www.itto.int.