ITTO and APFNet launch project to promote SFM in Sarawak
31 March 2015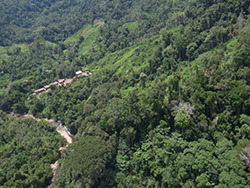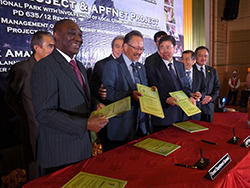 A project launched recently by ITTO and the Asia-Pacific Network for Sustainable Forest Management and Rehabilitation (APFNet) will promote sustainable forest management (SFM) in the Sungai Mediht watershed in northern Sarawak, Malaysia. This 35 400-hectare forest has been degraded by unsustainable logging practices, with devastating impacts on the Kelabit and Penan peoples, whose livelihoods are based on shifting cultivation, collecting and hunting.

This community-based project will work to reverse the degradation of the watershed by:
establishing a baseline of data on forest resources, biodiversity, traditional knowledge and socioeconomic conditions;

assisting in the development of community-level forest management plans;

demonstrating SFM practices;

establishing community-based forest management mechanisms;

introducing alternative livelihoods, such as vegetable-growing, ecotourism, and the raising of poultry, fish and livestock; and

creating or improving village infrastructure, such as a multi-functional meeting hall, a community school, alternative energy facilities and a graveled road.
The join project was launched at a ceremony held on 23 March 2015 in Miri, Sarawak, Malaysia, attended by officials of APFNet, ITTO and the State of Sarawak. Attendees included H.E. Y.B. Datuk Amar Haji Awang Tengah Ali Hasan, Minister of Resource Planning and Environment, Sarawak; Mr. Haji Sapuan Bin Ahmad, Director of the Sarawak Forest Department; Professor Dr. Qu Guilin, Executive Director of APFNet; and Mr. Emmanuel Ze Meka, ITTO Executive Director.

ITTO and APFNet—a growing partnership
The joint project, funded by APFNet and implemented by the Sarawak Forest Department under the supervision of ITTO, is part of a growing partnership between APFNet and ITTO in pursuit of common objectives. The project has a total cost of US$593 000, of which APFNet is contributing US$460 000 and the Government of Sarawak the remaining US$133 000.

APFNet and ITTO previously collaborated—along with other partners—in convening a forest statistical workshop in Haikou, China, in April 2013 and a regional workshop for Asia and the Pacific in Kunming, China, in September 2014. APFNet also provided generous support for participants to the International Forum on Payments for Environmental Services of Tropical Forests held in April 2014 in San Jose, Costa Rica, which ITTO was a co-convener. ITTO and APFNet also jointly set up a booth at the 20th Session of the Conference of the Parties to the United Nations Framework Convention on Climate Change held in Lima, Peru, in December 2014.

Speaking at the launch of the Project Mr. Ze Meka mentioned that he was pleased with the progress made in developing the partnership between the two organizations. "ITTO wishes to further strengthen the partnership with APFNet in support of the efforts of the State of Sarawak towards the sustainable future of its people and forests," he stated.