Changing market landscape for tropical timber
6 November 2014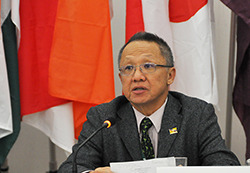 The ITTO Annual Market Discussion 2014, organized by the Organization's Trade Advisory Group (TAG), took place on the 5th of November 2014 with the theme "Domestic and emerging international markets – a changing market landscape". The theme chosen by the TAG reflects the economic growth across Asia, Latin America and Africa in recent years, which is changing the nature of the global wood products market and is gradually shifting demand from west to east.
Presentations were made by speakers from the International Wood Products Association (USA), the Brazilian Association for Mechanically Processed Timber (ABIMCI), The Thai Timber Association, The Wood Foundation (South Africa), and other independent consultants.
In addition to their focus on growth in domestic timber markets in countries Brazil, South Africa and Thailand, speakers noted that demand for tropical timber had declined in many traditional markets, but stressed that with a well-articulated message to create public support for sustainability and legality of wood and wood products, tropical timber could regain market share.
The TAG Coordinator, Mr. Barney Chan (Malaysia), also presented the Trade Statement during the Market Discussion. He pointed out that the TAG has sufficient understanding of the reasons for the declining market share and competitiveness of tropical timber and timber products but what is needed now is a comprehensive strategy to address the problem. The TAG has firm ideas on how this strategy could be developed.
Mr. Chan, quoting a recent statement by the EC Commissioner for Development, noted that: "The impact that private sector actors can have on development is now widely recognized, and donors around the world are seeking ways to effectively engage with the private sector in creating jobs, providing incomes, goods and services, advancing innovation, and generating public revenues essential for economic, social and environmental welfare." The TAG envisages an approach that 'blends' private sector initiatives and ITTO resources to achieve common objectives.
The TAG suggested that ITTO should be provided with resources to develop a comprehensive and innovative strategy to assist all stakeholders to continually improve the market position and technical foundation of tropical timber and timber products as the environmentally-friendly material of choice. Such a strategy should draw on the accumulated experience and expertise of the ITTO and public and private sector actors to secure the future of tropical forests and the international tropical timber trade.
For more information on ITTO and/or the 50th Council Session go to www.itto.int.
Daily coverage of the 50th Council Session by the Earth Negotiations Bulletin (ENB) is available at http://www.iisd.ca/forestry/itto/ittc50/