ITTO participates in the "Human-Earth Exhibition"
4 April 2014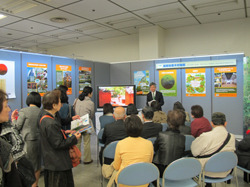 ITTO actively participated in the "Human-Earth Exhibition" convened in Yokohama, Japan from 25 to 31 March, 2014. The Exhibition was organized by Soka Gakkai International (SGI) and supported by major local media organizations. The objective of the Exhibition was to raise awareness among the citizens of Yokohama on global environmental issues, such as climate change, loss of biodiversity, shortage of quality water, food security, as well as tropical deforestation and forest degradation. The Exhibition has, so far, been organized in more than twenty major cities in Japan.
During the Opening ceremony, Mr. Emmanuel Ze Meka, ITTO Executive Director, underlined the fact that global environmental problems are the result of our day-to-day businesses and life style, and therefore, awareness-raising is one of the keys to the solution of global environmental problems. He mentioned that knowledge is the power that moves people to take solid actions in their daily lives and ultimately brings about significant changes in consumption and production patterns towards the achievement of sustainable development.
Mr. Ze Meka also expressed his gratitude to the government of Japan, the Kanagawa Prefecture, and the City of Yokohama for their continuous support to ITTO, which has enabled the Organization to implement over one thousand projects in the last 27 years, in its pursuit of sustainable forest management (SFM) in the tropics. Mr. Yuji Kuroiwa, Governor of Kanagawa Prefecture and Mr. Takashi Suzuki, Deputy Mayor of the City of Yokohama were also present at the Opening ceremony of the Exhibition.
The Amazon, the largest tropical forest area in the world, was part of the focus of the Exhibition. The SGI operates the Amazon Ecological Conservation Center, which is located in the City of Manaus, Brazil, with the aim of advancing ecosystem management of Amazonian forests that has also been a focus area of work of ITTO.
During the Exhibition, ITTO presented a new video on the ITTO-CITES Programme being implemented to protect endangered tree species, such as mahogany (Swietenia macrophylla) in the Amazon; ramin (Gonystylus spp.) in Southeast Asia, and African cherry (Prunus africana) in the forest of the Congo Basin. Another ITTO video was on the efforts of African women working in the restoration of degraded forests.
Watch the ITTO-CITES programme video in Japanese
Watch the women in forestry video in Japanese
Download ITTO PR material in Japanese
Download ITTO manga magazine in Japanese