ITTO project recognized in Brazil
31 January 2014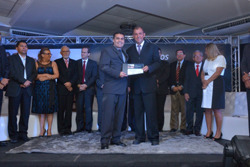 The ITTO funded project PD 433/06 Rev.3 (I) "Sustainable model for the Brazilian wood flooring production chain" received the Prof. Samuel Benchimol/Bank of Amazonia award for Conscious entrepreneurship on 22 November 2013 in the city of Boa Vista, Brazil.
The project was awarded second place in the Conscious entrepreneurship category for research being conducted on the utilization of lesser used timber species in the wood flooring production chain, and improvements to wood drying and wood residue utilization, which are helping to improve sustainable forest management in the Brazilian Amazon and to increase the efficiency of Brazil's wood flooring sector. The project has also developed technical standards for wood flooring processing, undertaken capacity building in applying the standards, and is establishing a quality certification programme.
The project was one of 246 nominations which were assessed on the criteria of innovation and how they will contribute to transform the biological diversity of the Amazon into prosperity for local populations without compromising the ecosystem.
The project is being executed by the National Hardwood Flooring Association of Brazil (ANPM) in collaboration with the University of Brasilia (EFL/UNB), Pará State University (CCNT/UEPA) and the University of São Paulo (ESALQ/USP), with the support of the Ministry of the Agriculture of Brazil (EMBRAPA/MAPA), the Ministry of the Environment of Brazil (LPF/SFB/MMA), and the Ministry of Foreign Affairs of Brazil (ABC/MRE).
The project was funded by ITTO in 2011 through generous contributions from the governments of Switzerland and Japan.
Further information on the project can be found at
http://www.itto.int/project_outputs/ and www.pimads.org
Further information on the Prof. Samuel Benchimol/Bank of Amazonia awards can be found at
www.amazonia.desenvolvimento.gov.br