FAO-ITTO statistical support for East Africa
28 January 2014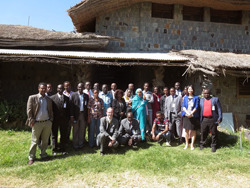 The ITTO Secretariat participated in an FAO Regional Statistical Workshop in Debre Zeyit, Ethiopia from 2-4 December, 2013. The workshop included statistical officials from Burundi, Djibouti, Ethiopia, Kenya, South Sudan, Sudan and Uganda. ITTO's participation was kindly sponsored by FAO as part of the long-running collaboration between the two organizations to promote improvements in global forest products statistics. While none of the participating countries are current members of ITTO, several have expressed interest and the workshop provided an excellent opportunity for countries in the East African region to become more aware of ITTO and vice-versa.
The aim of the workshop was to improve data collection and statistics in Eastern Africa. The first two days of the workshop were focused on improvement of communication and data collection/validation between participating countries and the FAO. ITTO shared its experiences on data collection, validation and dissemination. Both organizations emphasized the importance of consistent wood products statistics for policy and/or project development. Participants presented their experiences and proposed solutions for improving the quality of statistics.
On the last day of the workshop, participants visited the Ethiopian Plywood Enterprise factory in Addis Ababa where they observed plywood manufacturing. The workshop gave the opportunity to strengthen international collaboration on data collection for wood products and reinforced FAO and ITTO joint efforts on data quality improvement.
Read more about the workshop on the FAO website:
http://www.fao.org/forestry/statistics/80565@189486/en/