ITTO fellow receives conservation award
17 September 2013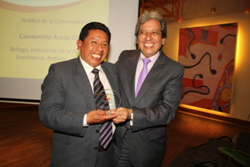 On 20 August 2013, Mr. Constantino Aucca Chutas, a national of Peru, received the conservation award
Carlos Ponce del Prado 2013,
from the Minister of Environment of Peru, Mr. Manuel Pulgar Vidal for his work in the preservation of biodiversity in Peru.
During an interview with the newspaper
El Comercio,
Mr. Aucca acknowledged the impact that the ITTO fellowship he received in 2008 had on his professional career and in getting a broader understanding of tropical forest management of the needs of the people who live in the forest.
Mr. Aucca's fellowship work resulted in a
Manual on tree planting in community forests
, which was subsequently described in ITTO's Tropical Forest Update (
http://www.itto.int/tfu/id=2813
).
Mr. Aucca's interview with
El Comercio
is available at:
http://elcomercio.pe/actualidad/1615733/noticia-reconocen-cusqueno-como-artifice-conservacion-nuestro-pais
For more information on the ITTO fellowship programme, click
here.