21 No 1
Fellows for SFM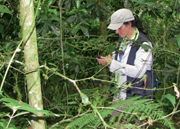 The lack of human capacity has been identified as a key constraining factor to sustainable forest management (SFM) in most of the diagnoses and analyses to assess progress towards SFM carried out in ITTO member countries over the past quarter century. One of ITTO's most effective contributions to addressing this constraint has been its Fellowship Program, among the Organization's earliest and most successful initiatives and probably the world's only such support program focused specifically on tropical forests and their management.
Full edition

The ITTO Tropical Forest Update is published quarterly in English, French and Spanish; the French and Spanish editions are usually posted about a month later than the English.


Content does not necessarily reflect the views or policies of ITTO. ITTO holds the copyright to all photos unless otherwise stated. Articles may be reprinted without charge providing the ITTO Tropical Forest Update and author are credited and the editor notified (tfu@itto.int).