Senator Viana opens 2nd International Expert Meeting on SFM
22nd August 2011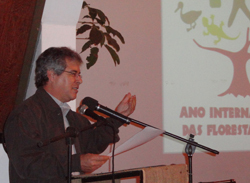 Senator Jorge Viana of the Brazilian Parliament opened ITTO's Second International Expert Meeting on Sustainable Forest Management on August 22 in Rio Branco, Brazil. The meeting, held at the Antimary Forestry Training Centre in the State of Acre, Western Brazilian Amazon, gathers experts from ITTO member countries representing all tropical regions, and partner institutions including CATIE, CIFOR, FAO and others, to review and update the ITTO Guidelines for Sustainable Management of Natural Tropical Forests. It is part of ITTO's and the Brazilian government's celebrations of the International Year of Forests and the 25th Anniversary of ITTO.
Senator Viana extended his thanks to ITTO for support in promoting the sustainable use and conservation of forest resources in the Amazon, as well as ITTO's partnerships with Acre's local institutions since 1987. He emphasized the need to continue promoting the sustainable use of forest resources to ensure a higher contribution of forest products and services to the economy of the country. Senator Viana announced a goal for Brazil's forests to double their contribution to the country's GDP (currently estimated at 4%) utilizing a green economy approach to bring further benefits to people living in and around forests. Viana expects Brazil to double its area of planted forests from the current level of around 7,000,000 ha to assist in meeting this goal.
Further details of the meeting (including the revised Guidelines once they are approved by the International Tropical Timber Council) will be posted under the
event page
as they become available.