The 2010 Annual Market Discussion 'Innovations and Technologies in Wood-based Industries'
17 December 2010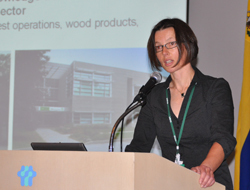 The 2010 Annual Market Discussion was held on the 15
th
December 2010 during the 46
th
Session of the International Tropical Timber Council. Mr. Barney Chan the Trade Advisory Group (TAG) coordinator chaired the discussion. In his opening statement the Chairperson reminded delegates that the theme of the Market Discussion for 2010 'Innovations and Technologies in Wood-based Industries' is a departure from the usual emphasis on market issues. Four speakers were invited to make a presentation on the theme.
Prof. Gary Waugh from University of Melbourne spoke on Global Challenges for Forest Products Industries; Threats or Opportunities for the Tropical Timber Sector. The core theme of the presentation was 'doing more with less'. In this the focus was on value-added solid wood products (sawn and veneer) followed by a section on composites and the need for matching resources, processing and product markets.
Prof. Callum Hill from Forest Products Research Institute, Edinburgh Napier University gave a presentation on Wood Modification, noting that technologies have been known for a long time, but that market interest has grown only recently as consumers have become more concerned about the environmental and sustainability credentials of wood. In addition, the reduced availability of many tropical hardwoods and higher tropical timber prices has made commercial softwood modification processes more financially viable.
The key message of the presentation given by M.Sc. Antje Wahl from Markets and Economics Group, FPInnovations Vancouver Canada, was that wood modification technologies applied to low density and fast growing species results in a product that can compete with naturally durable tropical timbers. It was learnt that while the volume of chemically-modified wood products on the market is very small, thermally-modified wood products and wood-plastic composites are now widely available. Manufacturers of thermally modified wood and wood plastic composites use green marketing messages which focus on recycled content and recycling possibility.
An overview entitled 'Adoption of Technical Innovation - Experiences of the Latin American Timber Sector' was delivered by Dr. Ivan Tomaselli from STCP Engenharia de Projetos Ltda Brazil. He noted that the Latin American and broader global timber industry is undergoing a structural change with a gradual shift from the use of large diameter trees to smaller diameters, including fast growing plantation wood and that new products and technological processes are constantly emerging. His presentation identified examples of new processes that have increased the competition in the markets for veneers and tropical decorative plywood. These include paper overlays, high pressure laminates, composite veneers, direct printing (for example onto MDF and MDP panels). Dr. Tomaselli reported that over the past decade output of the decorative veneer sector in Brazil declined by more than 50%.
The suggested solution to regain the market share was for tropical timber producers to move rapidly to trading certified wood and to address the concerns that consumers have on the social issues surrounding the tropical timber sector. In terms of directly facing the competition from modified softwood products, Prof. Hill suggested that if possible, tropical countries could generate a resource of low density, fast growing and low cost timbers with uniform characteristics suitable for modification processes with low capital costs of thermal modification plant.
All woods, softwoods and hardwoods, it was pointed out, are affected by competition from substitutes and alternatives but that in today's market the impact on tropical hardwood markets appears most severe. There is major investment in innovation and promotion in other sectors but the tropical timber industry has been slow to react to this.