ITTO project releases short video of stunning Betung Kerihun
28 February 2019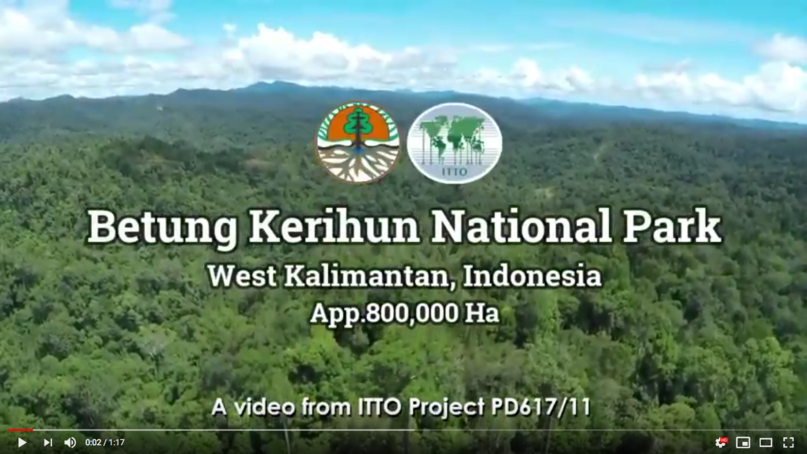 A new video shows images of beautiful Betung Kerihun National Park on the border between Indonesia and Malaysia on Borneo. The park, which is part of a transboundary conservation area, is home to at least 48 mammal species, including orangutan, 1200 plants and 112 fish species. ITTO projects in the area have helped uplift local livelihoods and improve biodiversity conservation outcomes.
Betung Kerihun National Park, which covers about 800 000 hectares, was established in 1992. One of Indonesia's most biodiverse protected areas, it adjoins the
Lanjak Entimau Wildlife Sanctuary
and Batang Ai National Park in Sarawak, Malaysia. A series of ITTO projects on both sides of the border has promoted collaboration between Indonesia and Malaysia on the conservation and sustainable management of this valuable transboundary ecosystem.
The latest project in the series [
PD 617/11 Rev.4 (F)
], which was completed recently, helped build the capacity of local communities living in or near Betung Kerihun National Park in a range of income-earning fields, such as bamboo and agarwood cultivation, aquaculture and ecotourism. Local women have been empowered through training and other means to operate local tourism ventures. Community members and park rangers have been trained in forest monitoring and patrolling, and a
wildlife survey
has been conducted.
Partnerships have been established among local communities, non-governmental organizations, government bodies and the Heart of Borneo Initiative that will help sustain project outcomes.
ITTO's projects in the transboundary area constitute part of the
ITTO/CBD Collaborative Initiative for Tropical Forest Biodiversity
.
Watch the video on ITTO Project PD617/11