ITTO Executive Director calls for increased contribution of SFM for wood-based bioenergy
19 May 2023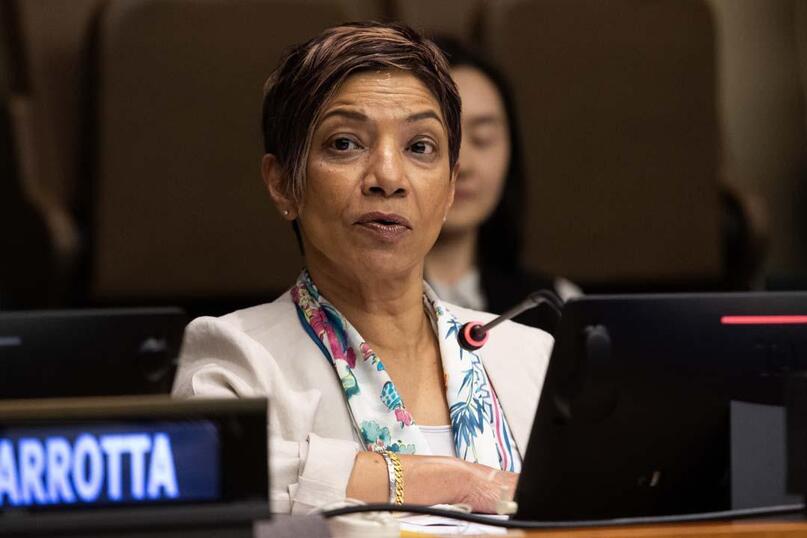 Yokohama, Japan, 19 May 2023: Realizing the renewable energy potential of tropical forests requires inclusive, innovative and integrated sustainable forest management (SFM) practices, ITTO Executive Director Sheam Satkuru said in a presentation at the 18th session of the United Nations Forum on Forests.
"Forests have historically been a major source of energy and livelihoods and still are, especially for rural populations in the tropics," said Ms Satkuru. "They have immense potential as sources of carbon-neutral renewable energy while also generating rural jobs and increasing the profitability of the timber industry. But this potential is still very much underappreciated."
Speaking during a panel discussion on the forests–energy–livelihoods nexus, Ms Satkuru said wood-based bioenergy is well-suited to small and community-scale projects, with its capacity to increase income, make productive use of marginal lands, and bolster rural economies. Moreover, sustainable forest management to produce wood and bioenergy contributes to climate-change mitigation by sequestering and storing carbon and replacing carbon-intensive materials and fossil fuels and by increasing the economic viability of forests and forest enterprises. SFM also contributes to almost all the Sustainable Development Goals (SDGs).
"The forestry and timber sector could gain significantly by engaging more in bioenergy and exploiting the advantages offered by wood-based energy resources," said Ms Satkuru. "Among other things, wood residues produced in sawmills and other processing facilities offer good opportunities for bioenergy production by reducing reliance on traditional, more climate-harmful energy sources."
Crucially, said Ms Satkuru, the development of the wood-based bioenergy sector must be promoted in the energy sector.
"There is an urgent need to bring the wood-energy sector into the mainstream of energy planning to take advantage of its potential while simultaneously boosting the profitability of small and medium-sized forest enterprises, helping reduce rural poverty and improving livelihoods," she said.
In her presentation, Ms Satkuru described some of the other key elements for ensuring that forest biomass provides a viable, sustainable source of energy. These include the economically viable restoration of degraded lands; the dissemination of technologies, information and knowledge on wood-waste utilization; respect for traditional supply systems for woodfuel and charcoal; and ensuring that the increased use of wood biomass doesn't lead to deforestation and the conversion of natural forests.
Ms Satkuru also described ITTO projects that have helped develop and increase the efficiency of wood energy resources, providing examples in Brazil, Côte d'Ivoire, Indonesia and Togo.
During the discussion, Ms Satkuru emphasized the significance of certification as an effective tool for assessing sustainability, stressing that this was just one of many assessment tools available. She underscored ITTO's strong commitment to collaborating with its members in the prevention and management of wildfires through the utilization of the ITTO forest fire guidelines and capacity-building projects. Opportunities for utilizing legally harvested and sustainably managed wood resources are endless, said Ms Satkuru, and can be one of the most cost-efficient and environmentally friendly nature-based solutions in climate-change mitigation and adaptation while progressing towards achieving the SDGs.
Download ITTO Executive Director's presentation below.