ITTO projects help improve forest fire management in Indonesia and Peru
4 May 2023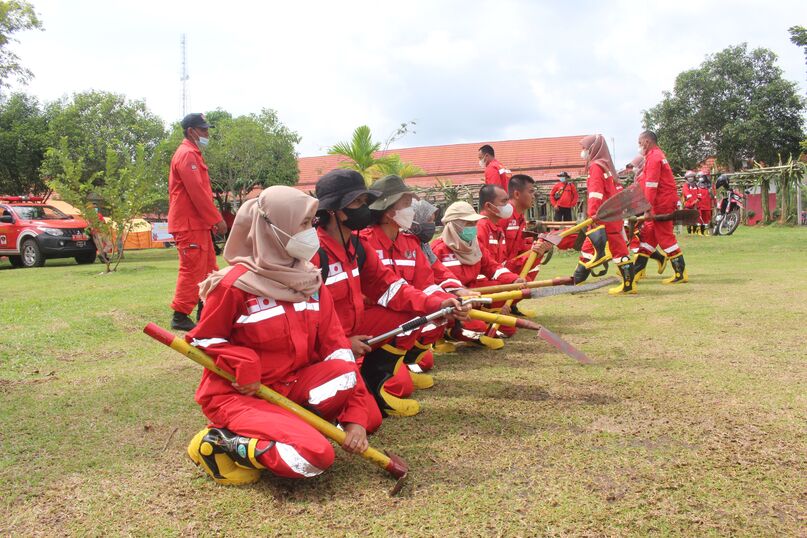 Yokohama, Japan, 4 May 2023: Two ITTO projects are showing how integrated fire management can tackle the threat posed by wildfire to tropical forests and forest-dwelling communities. We put the projects in the spotlight to mark International Firefighters' Day, which recognizes and honours the sacrifices firefighters make to ensure that their communities are as safe as possible.
Forest wildfire is increasingly prevalent worldwide, causing more than one-quarter of global forest loss in the last two decades.[1] Tropical forests are also becoming more susceptible to wildfire for a range of climate- and land-use-related reasons.
"It is essential we do to more to tackle forest fire in the tropics," said ITTO Executive Director Sheam Satkuru. "It causes major loss of life, threatens forest biodiversity, pollutes the atmosphere, and destroys valuable assets. Unchecked, the risk will only escalate."
Two recent ITTO projects, both funded by the Government of Japan, are making a difference.
In Indonesia, ITTO project PP-A/56-340-1, "Capacity building on forest and land fire management", conducted extensive training in local communities on zero-burning practices and established eight demonstration plots. Further fire management training and fire mechanics was provided for forest fire brigades in the provinces of South Sumatera, Central Kalimantan and South Kalimantan. The "integrated land preparation without burning" approach developed under the project has now become a national policy for forest fire prevention and is progressively being adopted across the country.
The project also supported the launch of the System Monitoring and Reporting Technology for Fire Prevention (SMART), which records and reports the real-time action of fire prevention patrols based on 79 parameters to better enable wildfire prevention, detection and early suppression. Among many other outputs, the project provided safety gear and other equipment to support the Manggala Agni brigade in implementing fire control.
In Peru, ITTO project PP-A/56-340-2, "Forest fire prevention and response in tropical forests and forest plantations", operated in the departments of Cajamarca, Huánuco, Junín, Pasco and Ucayali. Among other things, it improved coordination and cooperation among national, regional authorities and local communities in the work to prevent and respond to forest fires. The project worked with volunteer fire brigades in the five departments to strengthen them through training on forest fire response and the provision of appropriate materials. It also involved local and Indigenous communities in fire prevention and response networks.
"ITTO has long advocated integrated fire management to combat the destructive power of forest wildfire," said Ms Satkuru. "These two projects are showing how effective this approach can be. We urge other countries, including donors, to commit the resources needed to improve forest fire management across the tropics."
---
[1] www.wri.org/insights/global-trends-forest-fires