Unless tropical forests generate value, we must be prepared to lose them
2 May 2022, Seoul, Republic of Korea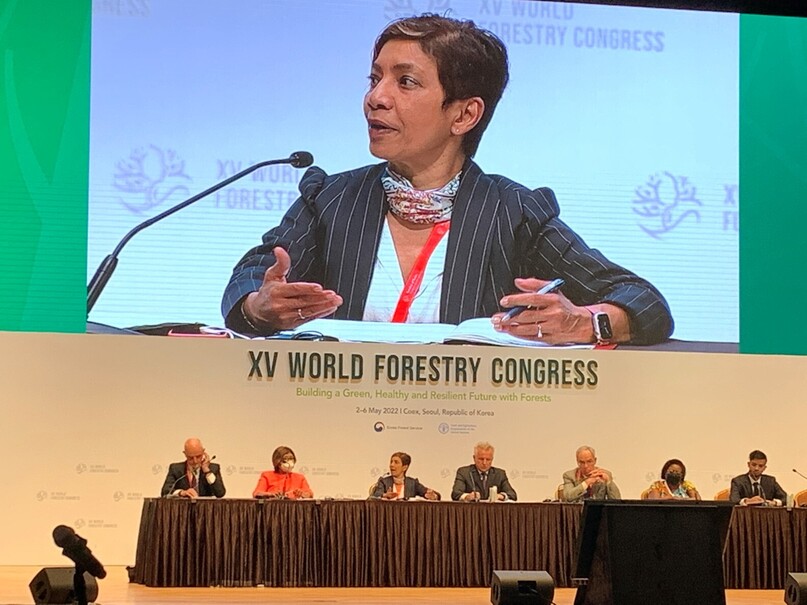 Seoul, Republic of Korea, 2 May 2022: Sustainable financing and cross-sectoral cooperation are crucial for enabling tropical forests to generate decent income compared with other land uses and thus ensure their conservation, according to ITTO Executive Director Sheam Satkuru on the opening day of the XV World Forestry Congress.
The XV World Forestry Congress is being held under the theme "building a green, healthy and resilient future with forest". It is a forum for the global community to consider the state and future of world forestry, particularly in the context of recovery from the COVID-19 pandemic and the achievement of the Sustainable Development Goals. ITTO has a strong presence at the congress through participation in various sessions, special events, side-events and the exhibition.
"Sustainable financing and cross-sectoral cooperation among agriculture, mining and forestry are key for the conservation of natural tropical forests. Coherent approaches are needed for scaling up landscape restoration in the tropics and ensuring economic gains, environmental and social protection," said Ms Satkuru. "If tropical forests generate sustainable decent incomes, they will remain rather being converted to other land-uses".
ITTO Executive Director Sheam Satkuru was speaking in session 1 of sub-theme 6, "Setting the stage: landscape approach and cooperation in international forestry", and she also spoke at the Collaborative Partnership on Forests' dialogue on "Climate change, conflicts and food insecurity—forest solutions to tackle effects of crises". At both events, Ms Satkuru stressed that, when sustainably managed, tropical forests conserve soil and water, filter the air, prevent land degradation and desertification, reduce the risk of floods, landslides, droughts and other disasters, maintain land productivity, and provide local communities with much-needed timber, income and materials.
In her interventions, Ms Satkuru also addressed questions on governance, the role of the timber industry in the tropics, the future of young people, women and indigenous communities, small and scalable projects, and the repercussions of armed conflicts. She noted that the tropical forest sector has changed dramatically in the last 40 years and is well-organized in many tropical countries, but the support of government is essential when it comes to good governance.
Ms Satkuru noted that while "bioeconomy" and "nature-based solutions" are getting traction as means for building greener, healthier and more-resilient societies, it is important to provide concrete examples. Sustainable forest management—although often taken for granted— is one such example because it provides wood, the most environmentally friendly construction material. "Sustainable forest harvesting is not deforestation, it is wood security, and wood should be given the value it deserves," she said.