Webinar on Guidelines for Forest Landscape Restoration in the Tropics (South America)
Webinar on Guidelines for Forest Landscape Restoration in the Tropics (South America)
Date & venue: 23 September 2021, 08:30–12:30 hours (Peru Time), Virtual
At the start of the UN Decade on Ecosystem Restoration, it is imperative to redouble efforts worldwide to restore degraded landscapes and increase their productivity. Many tropical countries have set ambitious targets for forest landscape restoration (FLR), and there is a strong need to build capacity for achieving these.
In close cooperation with the Collaborative Partnership on Forests and many other partners, ITTO published Guidelines for Forest Landscape Restoration in the Tropics in 2020 with the aim of helping policymakers, foresters, community-based organizations, farmers and others to restore degraded forest and tree landscapes, thereby providing vital goods and services, creating sustainable rural livelihoods and increasing landscape productivity.
The aim of this webinar, hosted by ITTO with support from the Tropical Agricultural Research and Higher Education Center (CATIE), is to help participants put the Guidelines for Forest Landscape Restoration in the Tropics into practice. Among other things it will:
Explore the six principles of FLR and their associated guiding elements for restoring degraded tropical forests and landscapes.
Enable the exchange of experiences on good practices in FLR.
Identify specific applications of the ITTO FLR guidelines at the national and subnational levels.
Participation is encouraged from FLR professionals in policy development and practitioners in Brazil, Colombia, Ecuador, Peru and Venezuela. The webinar will be conducted in Spanish and will provide an interactive space for knowledge-sharing and discussion on FLR among participants.
Please register here by 21 September 2021.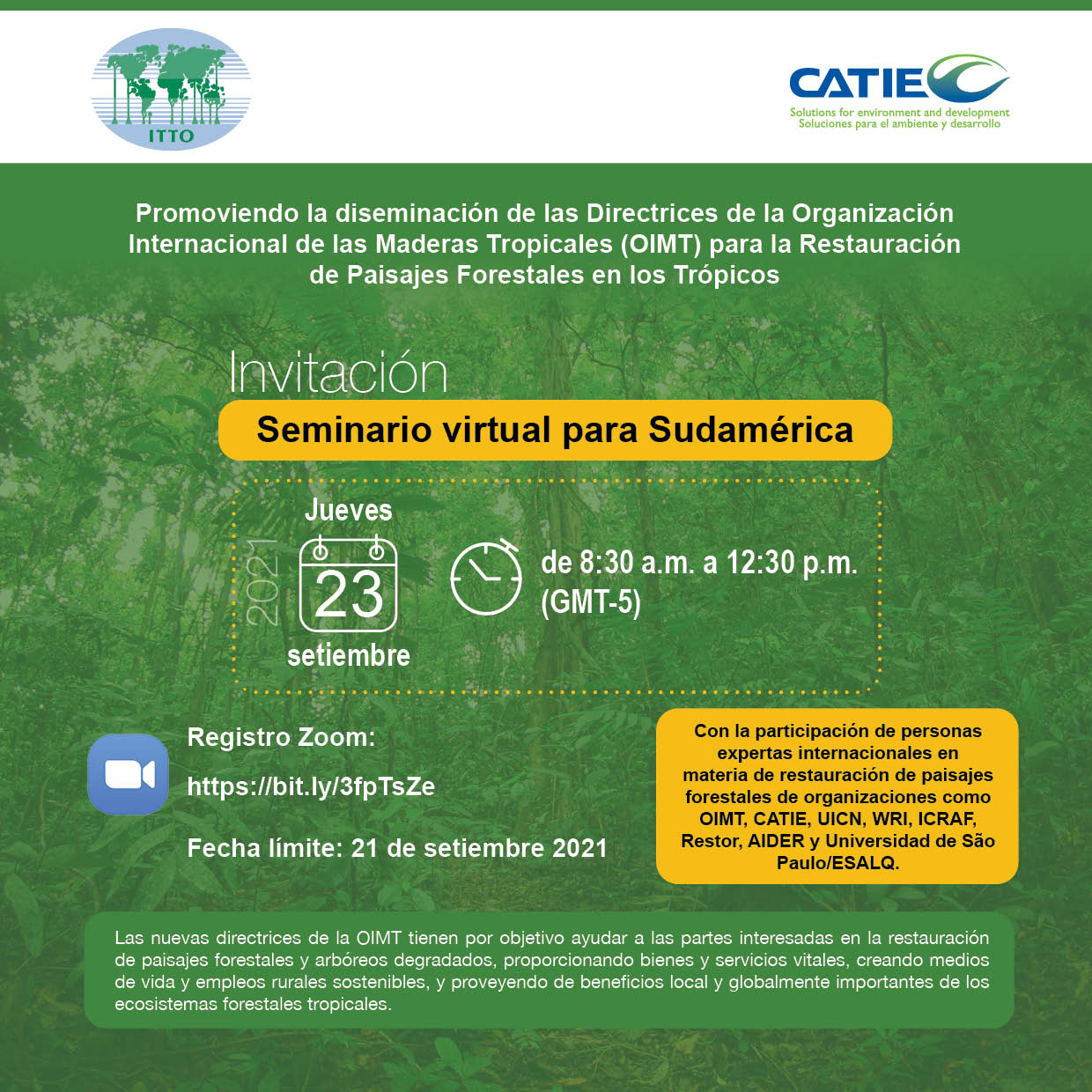 Contact
Mr Polycarpe MASUPA
ITTO Projects Manager
e-mail: masupa@itto.int



Dr. Cesar SABOGAL
Webinar Superviser
e-mail: sabogalcesar10@gmail.com