25 June 2018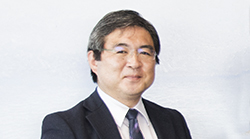 It is with deepest regret that ITTO informs of the sudden demise of Mr Satoshi Akahori, Assistant Director of Forest Management, in his home country of Japan, on 25 June 2018 at age 55. Satoshi, as he preferred to be called, joined ITTO on 1 April 2018, after a long and successful career in Japan's Forestry Agency, where he held a number of posts, including Director General of the Forest Training Institute; Director of the Forest Utilization and Conservation Division; and Director of International Forestry Cooperation. He also worked on international forestry issues prior to joining ITTO, including a secondment to UN FAO in 1990–1992.
Despite serving at ITTO only for a few months, Satoshi contributed valuable expertise to the Secretariat in various aspects of sustainable forest management, forest governance, timber legality and international cooperation, amongst others. He would equally be remembered by all who knew him for his bright personality, good sense of humor and willingness to help anyone who crossed his path. He will be sorely missed by his family, his colleagues at the ITTO Secretariat, Japan's Forestry Agency, and many others who met him over his short but wonderful life.
Rest in peace, Satoshi, as we toast your life and success.
Anyone wishing to forward a message of condolence to the Akahori family can send it to itto@itto.int with the subject "Akahori" and the Secretariat will ensure it is conveyed.