International workshop on green timber supply chains opens in China
22 June 2018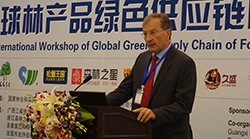 The International Workshop on Global Green Supply Chain of Forest Products and Dialogue with Chinese Leading Timber Enterprises opened in Beijing, China, on 21 June 2018 with the aim of establishing and promoting green timber supply chains.
In his opening address, ITTO Executive Director Gerhard Dieterle said that the workshop is central to ITTO's mandate to promote the expansion of international tropical timber trade from legal and sustainable sources. Dr Dieterle said that Chinese manufacturers of timber products are placed right in the middle of the tropical timber supply chain, from production, through processing to the marketing of finished wood products in international markets. They face challenges, therefore, but also have the opportunity to be major drivers of sustainable forest management through green supply chains.
Dr Dieterle said that major markets are sending clear signals that tropical timber products imported from China and other countries need to demonstrate that products are not sourced at the expense of tropical forests. The implication is that markets will require documented proof of legality and sustainability.
Dr Dieterle outlined five public–private investment areas for the successful establishment of green supply chains:
the restoration of tropical forests through massive reforestation and the establishment of new forest plantations;
improved practices for sustainable forest management and timber production;
the efficient use of harvested wood and a reduction in waste;
the verification of origin and good forest management through chains of custody; and
training, capacity building and information exchange across the supply chain, from standing trees in the forests to finished products on shelves in consumer markets.
Dr Dieterle said that successful green supply chains require a healthy private sector grounded in sound enabling frameworks, including incentives; fair taxation systems; clear rules; the absence of corruption and illegality; clear land tenure and rights; and the involvement of local people and smallholders. For this reason, the private sector, governments and international organizations need to combine their efforts, he said, and ITTO stands ready to work in partnership with all parties.
Several high-ranking Chinese government officials spoke at the opening ceremony: Dr Wang Dengju, Director General of the Center for International Forest Products Trade (CINF/NFGA); Mr Wu Zhimin, Director General for International Cooperation, National Forestry and Grassland Administration (NFGA); Ms Liang Hong, Deputy Director General for International Cooperation, Ministry of Commerce; (MOFCOM) and Ms Jin Hongman, Deputy Director General for Statistics and Data Department from the General Administration of Customs (GAC). All recognized the value of establishing green supply chains, not only for economic development but also for achieving the Sustainable Development Goals. All also expressed the view that green supply chains are an excellent concept that must be embedded in people's minds in producer, processor and consumer countries to ensure mutual recognition and that fair and equitable rules apply to all actors.
On the first day of the workshop, more than 120 participants discussed the following four topics: 1) the current situation and trends of tropical timber resources, with presentations by speakers from Central Africa, Malaysia, Papua New Guinea and Peru; 2) the demands and challenges of global timber markets, with presentations by speakers from ITTO, the European Timber Trade Federation, and the consulting firm South Star Australia Group; 3) perspectives on building green supply chains in China, with presentations by the China Timber and Wood Products Distribution Association, China Forest Products Co. Ltd., Startforest ArtFlooring Co. Ltd, and the National Forestry and Grassland Administration; and 4) concepts and experiences for building successful supply chains, with presentations from the University of International Business and Economics, the Sarawak Timber Association, and the General Customs Administration of China.
Work will continue on the second day, including through a dialogue with leading Chinese timber enterprises on the establishment of a green supply-chain mechanism.