Connect with ITTO in 2018!
05 January 2018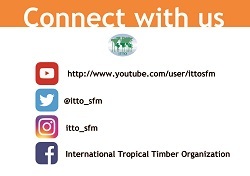 Happy New Year from the ITTO Secretariat!
To keep in touch with ITTO's work this year, connect with us via social media – Facebook, Instagram, Twitter and YouTube.
Facebook: International Tropical Timber Organization
Instagram: itto_sfm
Twitter: @itto_sfm
YouTube: https://www.youtube.com/user/ittosfm
We look forward to interacting with you in 2018.