ITTO shares its experience to improve forest data
1 November 2017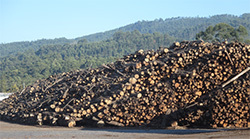 ITTO shared its experience in data collection, validation, analysis and dissemination at a recent statistical workshop organized by the Food and Agriculture Organization of the United Nations (FAO).
The aim of the workshop, which was held in Viana do Castelo, Portugal, on 9–11 October 2017, was to strengthen capacity in the collection, analysis and reporting of forest statistics in Portuguese-speaking countries. Participants attended from Angola, Brazil, Cabo Verde, Guinea-Bissau, Mozambique, Portugal and Sao Tome and Principe, and the Portuguese industry associations AIMMP, APCOR, CELPA and Centro Pinus were represented.
At the workshop, participants described the forest sectors in their countries and the challenges they face in reporting on forest products. ITTO and FAO made presentations to clarify definitions, classifications and other aspects of the Joint Forest Sector Questionnaire, and the workshop explored possible ways to improve the quality of statistics within the country grouping.
The workshop was enriched by a field trip to the Europac paper mill, at which participants observed the full paper manufacturing process, from raw material to finished product.
The workshop helped strengthen collaboration on data collection on wood products among Portuguese-speaking countries and reinforced the joint effort of ITTO and FAO to improve data quality among this group of countries. The outcomes of the workshop were presented at the
8th Portuguese National Congress
organized by the
Portuguese Society of Forest Science
.
More information on the workshop, including country reports and presentations is available
at FAO's website