Conference calls for more urgent action on mangroves
28 April 2017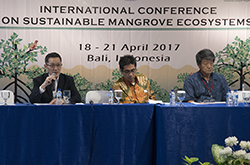 Recognizing an urgent need to reduce the continuing loss and degradation of mangroves, participants in the International Conference on Sustainable Mangrove Ecosystems, have urged policymakers, mangrove practitioners and scientists, costal communities, international organizations, the private sector, and donors to "redouble their work" to ensure the conservation, restoration, protection and sustainable management and use of the world's remaining mangrove ecosystems.
Nearly 300 policymakers, researchers, practitioners and community representatives from 25 countries worldwide attended the conference, which was held in Bali, Indonesia on 18-21 April 2017, Papers presented at the conference demonstrated that, with adequate investment, sustainable mangrove management can play a significant role in conserving and enhancing carbon sinks, enabling adaptation to climate change, and achieving the UN's Sustainable Development Goals 5, 13, 14 and 15. The conference also showed the leading role of women in the restoration and rehabilitation of degraded mangroves worldwide and the importance of involving local communities in sustainable mangrove management.
In issuing the "Bali Call to Action for Sustainable Mangrove Ecosystems", participants identified five key measures that, if implemented, would help ensure that mangrove ecosystems are protected, expanded and managed sustainably. In abbreviated form, these are:
prioritizing sustainable mangrove management in national policies and laws and strengthening forest law enforcement;
promoting sound land-use planning, clarifying land tenure and user rights, and empowering local communities, especially women;
increasing the effectiveness of mangrove restoration with best (or most appropriate) restoration strategies and practices;
facilitating access to financing mechanisms to scale up mangrove-based climate-change mitigation and adaptation; and
generating and disseminating knowledge on mangrove management and change.
The Bali Call to Action can be downloaded here.
The conference was organized jointly by ITTO, the Ministry of Environment and Forestry of Indonesia and the International Society of Mangrove Ecosystems (ISME) with the support of many partners including the ASEAN-Republic of Korea Forest Cooperation (AFoCo), the Center for International Forestry Research (CIFOR), FAO and US Forest Service as well as proactive mangrove related civil society groups and the private sector in Indonesia. It was funded by generous contributions made available by the governments of Japan and the USA.