Workshop strengthens CITES implementation on trees
21 February 2017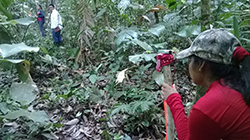 The International Workshop on Tree Species in CITES, convened on 7–9 February 2017 by ITTO, the Convention on International Trade in Endangered Species of Wild Fauna and Flora (CITES) and the Guatemalan Nature Foundation for Life (FNPV), has made recommendations to strengthen the implementation of CITES regulations for listed tree species to ensure that trade is legal, sustainable and traceable.
The workshop, which was held in La Antigua, Guatemala, was attended by 28 delegates from 15 CITES Parties. It explored relevant CITES resolutions and decisions as well as new tree listings and other amendments to the Appendices adopted at the 17th meeting of the Conference of the Parties to CITES (CoP17), which took place in South Africa in September/October 2016.
Among other things, the workshop encouraged greater coordination between Parties with common issues and made recommendations that will feed into the work to be carried out on CITES-listed tree species in the intersessional period between CoP17 and CoP18 (to be held in Sri Lanka in 2019).
Workshop discussions focused on CITES and listed tree species; non-detriment findings (the sustainability of harvesting); the implications of listing a species in CITES; the resources available for international cooperation; the joint work of CITES and ITTO; and market trends in timber products.
The main taxa discussed at the workshop were
Adansonia, Aquilaria, Bulnesia, Dalbergia, Guibourtia, Gyrinops
and
Pterocarpus.
Agreed key priority areas for future work were timber identification; the revision of current annotations that accompany the listing of tree species; supporting Parties in developing and strengthening traceability systems; and revising CITES resolutions to strengthen guidance on implementing CITES for listed tree species.
FNPV, assisted by ITTO, organized the workshop. The CITES Secretariat provided additional support, with the generous financial assistance of the European Union through the European Commission.
The full report and recommendations of the workshop will be posted on the ITTO–CITES Programme webpage at
www.itto.int/cites_programme
.