ITTO and TRAFFIC strengthen partnership
3 October 2016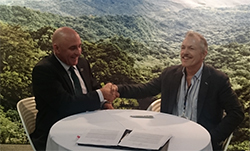 ITTO and TRAFFIC signed a memorandum of understanding (MOU) on the 3rd of October 2016 to enable them to jointly pursue shared objectives on the conservation, sustainable management and use of tropical forest resources and in the fight against illegal wildlife trade and other forest-related crimes.
The MOU was signed by Dr Steven Johnson, Officer-in-Charge at ITTO, and Mr Steven Broad, Executive Director, TRAFFIC, on the sidelines of the 17th Conference of the Parties of the Convention on International Trade in Endangered Species of Wild Fauna and Flora (CITES) underway in Johannesburg, South Africa, where a number of timber-related proposals and working documents are being discussed and negotiated.
"The MOU with TRAFFIC will bring a new dimension to ITTO's work on forest-related and wildlife crimes that are hindering the sustainability of the trade and management of forests," said Dr Johnson. "It will complement the work we do in partnership with CITES and others to ensure that timber trade is sustainable and comes from sustainably managed forests."
TRAFFIC is the leading non-governmental organization working globally on trade in wild animals and plants in the context of biodiversity conservation and sustainable development.
"Timber is by some margin the most valuable wild-sourced commodity globally," said Mr Broad. "Through this MOU, TRAFFIC and ITTO will strengthen our cooperation on the conservation and sustainable management of this valuable natural resource."