ITTO projects share experiences on timber tracking at APEC
18 August 2016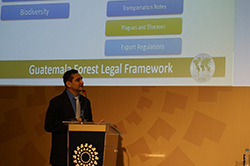 ITTO projects shared their experiences and lessons learned on timber tracking at the workshop "Strengthening Forest Control Systems and Market Chains in APEC Economies", held in August during APEC's Third Senior Official Meeting in Lima, Peru.
The workshop, which was organized jointly by Asia-Pacific Economic Cooperation (APEC) and the Peruvian Forest Service (SERFOR) and took place on 15–16 August 2016, presented and discussed challenges, solutions, science and technologies for improving forest monitoring, control, legality and good governance. Many ITTO members have implemented ITTO-funded projects relevant to these topics, and representatives of implementing agencies and the ITTO Secretariat shared their experiences.
Approaches developed and tested in ITTO projects include:
The use of information technologies and geographical information systems in the development of national forest information systems. National forest information systems assist governments in collecting and recording high-quality data on the flow of forest products, thus increasing the efficiency and transparency of forest-sector oversight and facilitating compliance with relevant laws by forest owners and enterprises involved in timber harvesting, transportation and processing. Forest owners and enterprises, in turn, benefit from systems that automate forest-related processes, minimize response times, standardize forms, clarify procedures, avoid data duplication, minimize human error, and limit officers' discretionary powers and bureaucracy; national forest information systems also assist in meeting the deadlines established by law for processing requests and applications. Experiences were presented at the workshop from ITTO projects implemented in Guatemala and Ecuador.
Tree species identification and timber tracking using DNA fingerprinting and stable isotopes. These techniques can assist timber traders in meeting their due-diligence obligations and authorities in ensuring that timber-legality laws and regulations are adhered to. Experiences were shared from an ITTO project implemented in Africa.
The development of platforms to facilitate information exchange on timber legality and market requirements. Such platforms can assist all forest stakeholders—especially small and medium-sized enterprises—to understand the type of evidence of legality and sustainability considered credible by customers and thus improving market transparency and interaction with relevant authorities. Experiences were shared from an ITTO project in China.
APEC sponsored representatives of implementing agencies and the ITTO Secretariat to attend the workshop.
Presentations from ITTO projects are available for download below.