US$2.7 million pledged for tropical forests
24 March 2016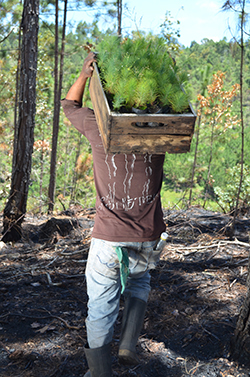 The Government of Japan announced on 23 March 2016 an intersessional pledge of funds amounting to US$2.7 million to support sustainable forest management (SFM) in the tropics. The funds will enable the implementation of six new projects and two activities in ITTO's 2015-16 Biennial Work Programme (BWP).
The six newly funded projects are:
Rehabilitation and SFM at RAMSAR sites 1017 and 1018 in Benin [PD 754/14 Rev.3 (F)]
Improve forest governance in Mozambique [PD 732/14 Rev.2 (M)]
SFM for lesser-used timber species in Honduras [PD 770/15 Rev.1 (I)]
Building participatory and inclusive SFM for reducing deforestation and forest degradation in Guatemala [PD 721/13 Rev.3 (F)]
Developing supply capacity for wood-based biomass energy in North Sumatra, Indonesia [PD 737/14 Rev.2 (I)]
SFM in the tropical dry forest of the north coast of Peru [PD 741/14 Rev.3 (F)].
The two BWP activities funded will build regional capacity for the application of the ITTO Voluntary Guidelines for the Sustainable Management of Natural Tropical Forests (published in 2015), and expand knowledge on mangrove forest ecosystems through an international conference to be organized by ITTO. Progress in the implementation of these projects/activities will be regularly posted on
www.itto.int
.