Assessing ITTO forest restoration guidelines at Global Landscapes Forum
9 December 2015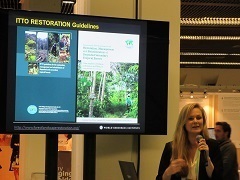 PARIS, FRANCE: Case studies assessing the ITTO Guidelines for the Restoration, Management and Rehabilitation of Degraded Secondary Tropical Forests featured in a knowledge-sharing session held as part of the 2015 Global Landscapes Forum on 6 December 2015. The purpose of the session was to increase understanding of the factors to be taken into account in successful forest and landscape restoration and management.
The case studies to assess the ITTO guidelines were presented by Kathleen Buckingham from the World Resources Institute (WRI), based on an ITTO-commissioned report she wrote with Sarah Weber. The knowledge-sharing session was organized jointly by ITTO, the International Union of Forest Research Organizations, WRI, Fundação Amazonas Sustentável, and others.
Dr Buckingham presented case studies from Ghana, Indonesia and Mexico and concluded the following:
Ghana: Practices built on traditional methods and experiences and using simple and inexpensive techniques and technologies aided the sustainability of restoration activities.
Indonesia: The development of participatory contractual agreements on collaborative forest management and the strong commitment of local governments and communities to their implementation helped ensure the effective operation of restoration projects.
Mexico: Given that demand for global commodities such as gold, bauxite, palm oil, rubber, sugar and beef is increasing, it is essential to consider how effective legislation, institutions and governance can facilitate the development of economically more attractive integrated land management systems.
ITTO commissioned the report from WRI as part of its contribution to the
Global Partnership for Forest Landscape Restoration
(GPFLR) in order to promote restoration and rehabilitation of degraded forests in the tropics.