ITTO releases 2013–2014 data on tropical timber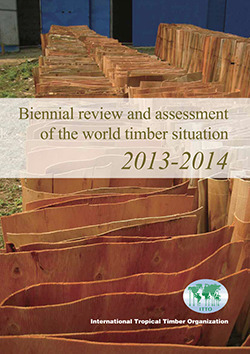 ITTO has published the Biennial Review and Assessment of the World Timber Situation 2013–2014, providing data on the production and trade of primary wood products with an emphasis on tropical primary wood products in 82 countries.
The biennial review:
summarizes developments in major markets for tropical timber;
provides an analysis of production, consumption, trade and prices for primary tropical timber products (tropical logs, sawnwood, veneer and plywood); and
describes trade in secondary processed wood products, with a focus on tropical countries.



Major production and trade volumes of ITTO member countries

2012
2013
2014*
(million m3)
Tropical logs
Production quantity
241.1
240.1
243.2
Imports quantity
15.8
16.7
19.6
Exports quantity
12.6
13.2
15.8
Tropical sawnwood
Production quantity
52.1
52.1
52.5
Imports quantity
8.1
8.6
8.8
Exports quantity
9.1
9.7
9.8
Tropical plywood
Production quantity
18.4
18.4
19.0
Imports quantity
5.7
6.0
6.0
Exports quantity
7.3
7.4
7.8

*Estimated.

A detailed analysis of trends in the production and trade of tropical primary wood products is available here. The French and the Spanish versions of the review will be published in mid-September 2015.