ITTO project aims at promoting SFM through REDD+ in Cambodia
28 July 2015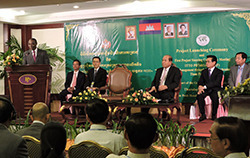 An ITTO project launched earlier this month aims at promoting research, development and training in carbon stock assessment to improve the management of tropical forests in Cambodia under REDD+ mechanisms.
REDD+ project development activities began in Cambodia in 2008, and these initiatives continue to influence the development of the national framework for sustainable forestry. The collective experiences gained through such REDD+ initiatives underscore the importance of standardizing procedures to meet the technical specifications associated with carbon standards to ensure that REDD+ projects are developed and implemented efficiently and effectively.
ITTO Executive Director, Emmanuel Ze Meka, the Minister of Agriculture, Forestry and Fisheries of the Royal Kingdom of Cambodia, Dr Ouk Rabun, and the Head of the Forestry Administration, Dr Chheng Kimsun, launched the ITTO project
"SFM management through REDD+ mechanisms in Kampong Thom province, Cambodia"
[PD 740/14 Rev.2 (F)] on 23 July 2015 in Phnom Penh, Cambodia. The aim of the project is to strengthen the institutionalization of REDD+ activities to reduce deforestation and forest degradation in the Tomring forest in Kampong Thom Province, the country's second-largest province.
Expected outputs are:
Improved Stakeholder understanding and knowledge of REDD+; .
Developing and implementing research programmes on REDD+ in the Tomring forest;
Strengthening REDD+ guidelines and training programmes for effective design and implementation of REDD+ activities;
Enhancing the livelihoods of local communities as well as increasing their incomes.
Download the project document
here