New video released on master plan for sustainable management of the Douala-Edea Wildlife Reserve
16 July 2015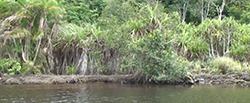 Mangroves are crucial ecosystems; not only are they viable sources of timber, they also protect shorelines from erosion and stabilize estuarine areas. However, in many tropical areas where mangroves are present, a high demand for timber and inappropriate extraction techniques result in destruction and degradation of mangrove ecosystems as well as associated watersheds. Such is the case in the Douala-Edea Wildlife Reserve (RFDE) in Cameroon. In this particular area, inappropriate uses such as slash-and-burn farming practices, harvesting of fuelwood and production of charcoal, and overexploitation of non-timber products were employed. The non-governmental organization Cameroon-Ecology (Cam-Eco) has released a
video
in French which demonstrates and summarizes the steps that have been taken under an ITTO project towards sustainable use of the tropical mangrove ecosystem in these areas.
This ITTO project
PD 492/07 Rev.3 (F)
"
Participatory rehabilitation and management project for mangroves and watersheds in the coastal area of the Douala-Edea wildlife reserve "
is, aiding Cam-Eco in developing and implementing a master plan for the sustainability of the tropical mangroves of the regions under the project. Additionally, a number of income-generating activities with low impact on the environment were undertaken by the local communities as part of the development of a local community economy, and three community forests for the Dibeng, Bessombè and Mossé groups have been established by the local communities.
Link to video:
https://youtu.be/a7ZcZ4pK4mM