New reports from ITTO-funded projects now available
27 March 2015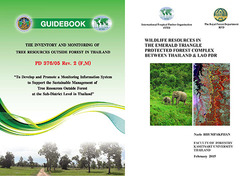 ITTO-funded projects in Thailand recently published three technical reports.
ITTO project
PD 577/10 Rev. 1 (F)
: "Management of the Emerald Triangle Protected Forests Complex to promote cooperation for transboundary biodiversity conservation between Thailand, Cambodia and Laos (Phase III)" published the following two technical reports:
The Emerald Triangle has some of the largest intact natural forests in Southeast Asia and is a last refuge for 16 species listed as critically endangered or endangered on the IUCN Red List.
ITTO project
PD 376/05 Rev.2 (F,M)
: "To develop and promote a monitoring information system to support the sustainable development of tree resources outside forest at the sub-district level in Thailand" published:
This guidebook presents helpful information for establishing a baseline inventory and monitoring system for tree resources outside forests to support policymaking and sustainable land management.