International partners increase availability of forest products information and improve reliability of tropical timber statistics
30 January 2015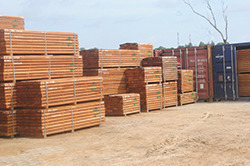 The Intersecretariat Working Group on Forest Sector Statistics (IWG) concluded its 28th meeting on 29th of January 2015 at the ITTO Headquarters in Yokohama, Japan. The IWG brings together representatives of ITTO, the FAO Forestry Department, the UN-ECE Forestry and Timber Section and Eurostat, with over 20 years of collaboration on collecting, analyzing and disseminating forest products statistics. The IWG reviewed activities among partner organizations in 2014 and planned work for 2015. The IWG has implemented joint data collection for global forest products during the last two decades, reducing national reporting burdens by over 50% and improving data quality and availability.
In 2014, data on over 50 forest products were jointly collected and shared. These data are presented for all countries and territories in the world and can be accessed through websites of the partner organizations (see links below). Three workshops were also jointly held to improve the capacity of 33 countries to provide statistics for policy-makers and analysts. These took place in Ankara (Turkey), Kunming (China) and Johannesburg (South Africa).
The IWG, over the past 3 years, has requested the World Customs Organization (WCO) for an updated and expanded list of tropical wood species to be included in the revision of the Harmonized System (HS) customs classification nomenclature due to come into force in 2017. The HS is used to assign all traded products into well-defined categories for tariff and analytical purposes and covers over 200 countries representing more than 98% of global international trade. The updated list of tropical species has now been accepted by the WCO and will increase the accuracy and usefulness of figures for trade in tropical wood products.
"We highly value this interagency cooperation that helps us to provide better information on tropical timber trends for our member countries" said Mr. Emmanuel Ze Meka, Executive Director of ITTO.
Links:
ITTO Statistical Database –
http://www.itto.int/annual_review_output/
FAO Statistical Database on Forest Products –
http://www.fao.org/forestry/statistics/84922/en/
Eurostat Forestry Statistics –
http://ec.europa.eu/eurostat/statistics-explained/index.php/Forestry_statistics
UNECE Forest Products Annual Market Review –
http://www.unece.org/forests/fpamr2014
WCO HS 2017 Press Release -
http://www.wcoomd.org/en/media/newsroom/2015/january/wco-publishes-the-agreed-amendments-to-the-hs.aspx