25th Anniversary of the ITTO Fellowship Programme
18 November 2014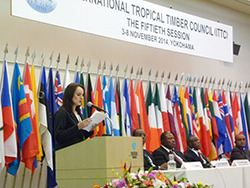 During the 50
th
Session of the International Tropical Timber Council (ITTC-50) which took place on 3-8 November 2014 in Yokohama, Japan, the ITTO Fellowship Programme[1] celebrated its 25
th
anniversary and awarded 23 new fellowships* valued at US$150,780.00. Three former fellows were also invited to present their success stories during the Opening Session of the ITTC-50.
The invited fellows, Prof. Daniela Pauletto (Brazil), Dr. Paul Bosu (Ghana) and Prof. San Win (Myanmar) highlighted the impact that the ITTO Fellowship programme had had in their professional development:
Prof. Pauletto, undertook the
International Course in the Diversified Management of Natural Tropical Forest: Management in the Face of Climate Change Challenges
at CATIE in Costa Rica in 2008. The fellowship allowed her to better perform as government official and eventually became a professor at the Federal University of West Pará in Brazil, working on sustainable forest management and improvement of livelihoods of local communities in the Brazilian Amazon.
Dr. Bosu, received two fellowships for a Master's Programme at Northern Arizona University in 1997 and for an environmental leadership course at the Smithsonian Institute in 2009. The skills gained through these fellowships have contributed in the establishment of mixed native species plantations, monitoring forest health, and in creating the
Bobiri Butterfly Sanctuary and Ecotourism Center
in Ghana. Dr. Bosu also received the Scientist of the Year Award at the Forestry Research Institute of Ghana (FORIG) in 2006 and the National Best Agricultural Researcher Award during the 2007 edition of Ghana's Farmers' Day Celebration. He works now as Senior Research Scientist at FORIG and has been sharing his knowledge to graduate and undergraduate students in his home country. Dr. Bosu expressed that
"the ITTO Fellowship he received in 1997 was like a 'springboard' upon which he leaped into forestry as a career"
.
Prof. San Win, received two fellowships in 2003 and 2008 to document the shifting cultivation practices of various hill tribes in Myanmar. His paper won the first prize in Forest Research Congress in 2005 for promoting SFM in Myanmar and also received an award for World Food Day in 2005 as it also enhances food security for upland dwellers. The fellowship awards also accelerated his promotion in the government to the present post of Pro-rector of the University of Forestry, Ministry of Environmental Conservation and Forestry. He is now working on an agroforestry project to enhance the livelihoods of shifting cultivators and keeps sharing his knowledge with undergraduate and post-graduate students at his workplace. He expressed that the
"ITTO Fellowship Programme greatly helps building capacities for young generation in ITTO's member countries"
.
With 25 years of track record the ITTO Fellowship Programme continues to promote human resource development to better shape the future of tropical forests and of the people who live from them.
*The new fellowships awarded for the 2014 Autumn Cycle are listed as follows:
Mr. Angwere, Walter Onekon Angwere (Cameroon): Masters Program in Environment and Natural Resource Management at African Nazarene University in Nairobi, Kenya
Mr. Atoche Montoya, Werhner (Peru): XXIV Annual Short Course in Protected Area Management at the Colorado State University in Fort Collins, Colorado, U.S.A.
Mr. Awokou, Simon Kodjoli (Benin): International Conference on "Towards Sustainable Production of Mahogany Species in Plantation in Tropical Africa" at Forestry Research Institute of Ghana in Kumasi, Ghana
Ms. Camacho Moreno, Eleonora (Mexico): XXVII International Intensive Course on Diversified Management of Tropical Natural Forests at CATIE in Turrialba, Costa Rica
Ms. Camargo, Marisa Camilher (Brazil): Ph.D. Field Research on "Business Solutions for Climate Change: Towards Effective Forest Governance" at the University of Helsinki, Finland
Ms. Ebune, Rita Mosume (Cameroon): Short Training Course on "Competing Claims on Natural Resources" at Centre for Development and Innovation at Wageningen UR, the Netherlands
Dr. Ev, Anoop (India): The 3rd World Teak Conference 2014 in Guayaquil, Ecuador
Dr. Eyi Ndong, Hugues Calixte (Gabon): Preparation of Technical Document on "Practical Guide for Identification of Non Timber Forest Products (NTFPs) of Gabon" at the Botanical Garden Meise in Brussel, Belgium
Ing. Guaman Hernandez, Marco Vinicio (Ecuador): Master's Program in Practice of Biodiversity Conservation at CATIE in Turrialba, Costa Rica
Mr. Hashmiu, Ishmael (Ghana): Preparation of Technical Document entitled "Integrated Assessment of the Prospects and Constraints of Payments for Ecosystem Services for Enhancing Adaptation of Sacred Groves and Indigenous Forest-Dependent Communities to Climate Change in Ghana"
Ms. Kedjeyi, Bidéname (Togo): Master's Research on "Simplified Mapping related to Ecological Elements of Fazao-Malfakassa Park in Togo" at AgroParisTech Montpellier, France
Mr. Kouacou, Yao Elvis Franklin (Côte d'Ivoire): Short Term Training in Use of Flying Object (civilian drones) in Forest Management at Xamen Technologies in Caen, France
Dr. Molina Murillo, Sergio Andres (Costa Rica): Natural Capital Project Fellows Program at Stanford University in Stanford, U.S.A.
Mr. Nchu, Innocent Ngiehnu (Cameroon): Short Training Course in "Assessment of the Effect of Climate Change on Agro-ecological Systems Using Optical and SAR Remote Sensing and GIS" at the University of Twente in Enschede, the Netherlands
Mr. Nsiah, Samuel Kwadwo (Ghana): Masters Thesis on "Community Mapping and Inventory of Traditionally Protected Forests in the Transitional Zone: Utilizing Geographic Information System and Indigenous Knowledge for Policy Formulation and Biodiversity Conservation" at Lakehead Universitym in Thunder Bay, Ontario, Canada
Mr. Oppong, James Amponsah (Ghana): Masters Research on "Phenology and Seed Germination Improvement of Two Important Tree Species" at Kwame Nkrumah University of Science and Technology in Kumasi, Ghana
Mr. Paguada Pérez, Darwin Rolando (Honduras): Master's Program in Management and Conservation of Tropical Forests and Biodiversity at CATIE in Turrialba, Costa Rica
Dr. Rebollar Domínguez, Silvia (Mexico): Preparation of Technical Document on "The Study to Develop Mechanical Test of Two Tropical Timber Species" at the Materials Laboratory of the Yucatan Scientific Research Center, Mexico
Mr. Sann, Bo (Myanmar): Ph.D. Research on" Secondary Succession of a Tropical Dry Forest: Diversity Patterns and Regeneration Processes in Relation to Functional Traits of Species" at Kyoto University, Japan
Dr. Shamsudeen, R. Sheik Mohammed (India): Preparation of Book on "Wood Bio Deterioration-Insects and Marine Organisms" at Kannur University in Kannur, India
Ms. Thinn, Thinn (Myanmar): Ph.D. Research on "Assessment of Land Use Changes and Mangrove Recovery in Cyclone-Affected Areas in the Ayeyarwady Delta, Myanmar" at Kyoto University, Japan
Ms. Valentina, Vaglica (Italy): Publication of Technical Document on "Listing New Timber Species of Dalbergia spp. in the CITES Appendices" at Department of Forest Management, National Council of Protected Areas in Guatemala City, Guatemala
Dr. Verma, Deepti (India): Preparation of Technical Document on "Opportunity for Growth of NTFP Based Cottage Enterprises for Upliftment of Hill Economies in India: A Case Study of Uttarakhand and Himachal Pradesh, India"
---
[1] ITTO offers fellowships through the Freezailah Fellowship Fund to promote human resource development and to strengthen professional expertise in member countries in tropical forestry and related disciplines. The goal is to promote the sustainable management of tropical forests, the efficient use and processing of tropical timber, and better economic information about the international trade in tropical timber.