ITTO celebrates the World Wildlife Day (3 March) and the International Day of Forests (21 March)
14 February 2014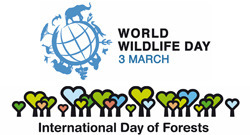 During the month of March 2014, the international community will commemorate both the
World Wildlife Day
(March 3) and the
International Day of Forests
(March 21).
Tropical forests are an important habitat for wildlife (flora and fauna) across the globe. Tropical forests are also a repository of many goods, services and values for humanity, including water, clean air, timber, food, fibers, resins, and scenic beauty, among many others.
On these special days, ITTO wishes to join efforts with and congratulate those who are working to sustain our wildlife and forests across the globe. On World Wildlife Day we congratulate in particular
CITES
who is celebrating its 50th anniversary and with whom ITTO has been working in close partnership for the past decade to improve the management of tropical tree species listed in the CITES Appendices to ensure that these species are sustainably managed and traded consistent with the regulations of CITES and the goals of ITTO.
More information about the World Wildlife Day is available at:
https://www.facebook.com/WorldWildlifeDay
More information about the International Day of Forests is available at:
http://www.fao.org/forestry/international-day-of-forests/en/