ITTO project recognized for the quality of its research
20 August 2013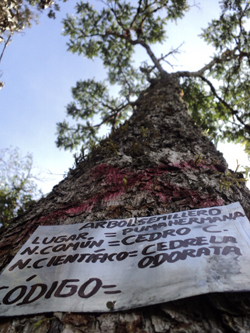 The ITTO-funded project PD 622/11 Rev.1 (F) "
Marketing of native plant seeds, seedlings and timber products to improve living standards and strengthen regional forest policies in the Amazon Region of Peru: A pilot case-study on the Taulia Molinopampa Rural Community
" has received an award at the regional research competition of the 2013 SEPIA XV (
Permanent Seminar for Agricultural Research)
, a standing regional forum held in 2013from 20-22 August in the city of Chachapoyas, Peru.
The award-winning research work, entitled "
Prioritization of native forest species as seed sources in Molinopampa, Amazonas, Peru"
, includes a detailed description of the selection, identification and coding of the following five native forest species from the Peruvian Amazon Region:
•
Cedrela odorata
– "cedro"
•
Alnus acuminata
–"aliso"
•
Ocotea spp.
– "ishpingo amarillo"
•
Gordonia fruticosa
– "chillca brava"
•
Solanum pseudosycophanta
– "san pablo o caballo runto"
This research has led to the identification of natural stands of the selected species and the development of a map identifying the location of 150 seed trees.
Botanical and vegetative propagation based on the use of material derived from seed or plus trees is currently generating high expectations as a viable alternative to ensure the long-term sustainability of the rich tree germplasm resources found in the area.
The research work was reviewed and graded by event organizers, including the Permanent Seminar for Agricultural Research (SEPIA, a non-profit civil association that promotes agricultural, rural and environmental research), the Peruvian Amazon Research Institute (IIAP), the Toribio Rodriguez de Mendoza National University of Amazonas (UNTRM) and the Sustainable Rural Development Plan of Deutsche Gesellschaft für Internationale Zusammenarbeit (GIZ).
The results of the competition are available at:
http://www.indes-ces.edu.pe/portal/index.php/noticias/38-result-sepia2013.html
Download the research abstract [es]
Available in Spanish only