ITTO Executive Director Mr. Ze Meka's Opening Remarks and Videos of the Opening Session of 43rd Council Session are online
5 November 2007, Yokohama, Japan
Streaming Videos of the Opening Session of ITTO 43rd Council Session
ITTO Executive Director Mr. Ze Meka's Opening Remarks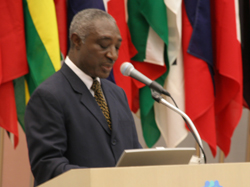 Mr. Chairman,
Honourable Ministers,
Hon. Mayor of the City of Yokohama,
Your Excellencies,
Members of the Diplomatic Corps,
Distinguished Delegates,
Ladies and Gentlemen,

I am greatly honoured and humbled at this opportunity to address you for the first time as the third Executive Director of this Organization. Let me first of all welcome you, Mr. Chairman, and your Vice-chair. Please allow me also to echo your words of welcome to all delegations.

The pleasure of welcoming you all to the ITTO headquarters is reinforced by our confidence that we can make you feel "at home away from home". We are receiving you on familiar territory here in Yokohama, where our hosts, the Government of Japan and the City of Yokohama, continue to favour us with their hospitality and support. Testimony to this is the gracious presence of H.E Osamu Uno, Vice-Minister of Foreign Affairs of Japan and Honourable Hiroshi Nakada, Mayor of the City of Yokohama, Our deep gratitude to our host authorities is unceasing.

Mr. Chairman,
I wish to also acknowledge the presence of His Excellency Dr. Elvis Ngolle Ngolle, Minister of Forests and Wildlife of Cameroon, His Excellency Dr. Daniel Ahizi Aka, Minister of Environment and Forests of Côte d'Ivoire, His Excellency Mr. Emile Doumba, Minister of Forest Economy, Water, Fisheries and National Parks of Gabon, and Her Excellency Madam Esther Obeng Dapaah, Minister of Lands, Forestry and Mines of Ghana. We extend our warm welcome to you all and look forward to hearing your wise counsel. I would also like to acknowledge the presence of Dr. Coosje Hoogendoorn, Director-General of the International Network for Bamboo and Rattan, or INBAR, H.E. Ambassador Ali Mchumo, Managing Director of the Common Fund for Commodities, and Professor Don Koo Lee, President of the International Union of Forest Research Organizations, or IUFRO. We look forward to continuing to strengthen cooperation between ITTO and your respective organizations.

Mr. Chairman,
Since the May session earlier this year, ITTO has been working hard to complete the ITTO 2006-2007 Biennial Work Programme. This programme, Members will recall, was very ambitious. I am pleased to report that, under the effective leadership of the immediate past Executive Director, Dr. Manoel Sobral Filho, almost all the activities specified in the Work Programme have been carried out satisfactorily. A more detailed report will be presented to the Council under agenda item 15 (a). However, I would like to highlight a few of the most strategically important activities undertaken in the last few months. As you will see, we have been busy.

As part of its work to promote investment in natural tropical forests, ITTO organized an International Tropical Forest Investment Forum in April 2006 in Cancun, Mexico, to explore ways of improving the attractiveness of private and institutional investments in natural tropical forests. This first global meeting was followed by three regional fora, one in Curitiba, Brazil in November 2006, one in Bangkok, Thailand in August 2007, and a third in Accra, Ghana, also last August, the latter in particular benefiting from high-level support and participation from governments in the region.

In Hannover, Germany, in May this year, ITTO convened an international conference on wood-based bioenergy in collaboration with FAO and the German Federal Ministry of Economics and Technology. This conference was convened amidst growing interest in the use of logging and wood-processing residues and dedicated bioenergy timber plantations for energy generation, driven by concerns over energy security, climate change and resource-use efficiency.

The Conference recognized that wood-based bioenergy, developed on the basis of sustainable forest management, offers countries, including many ITTO producer member countries, an opportunity to improve their energy security and the efficiency of other wood-based industries while also acting as part of an overall climate change mitigation strategy.

In September this year, ITTO, in collaboration with INBAR, FAO and the Chinese Academy of Forestry, organized an international conference to promote the development of tropical non-timber forest products and services in Beijing, China, a country at the forefront of many of the most dramatic developments in the utilization of NTFPs. As we move towards the coming into effect of the new International Tropical Timber Agreement, ITTO's role in promoting NTFPs and forest services is perhaps something that members will wish to strengthen.

Mr. Chairman,
ITTO has continued to work closely with the Secretariat of the Convention on International Trade in Endangered Species (CITES) and member countries to ensure the effective implementation of regulations governing trade in threatened or endangered tropical timber species. ITTO participated fully in the 14th Conference of the Parties to CITES held in the Hague, the Netherlands, in June this year, including by convening a side-event there.

ITTO also participated in a meeting convened by UNEP-WCMC in September in Kuala Lumpur on "Strategies for the Sustainable Use of Timber Species in International Trade", designed to identify species of conservation concern in Asia to allow for appropriate action, including possible CITES listing proposals.

I am pleased to report that the capacity of the Secretariat to collaborate with CITES has expanded with the hiring of a regional coordinator for Latin America as part of our large CITES capacity-building program. We hope to make appointments for the other two regions soon.

In July 2007, in the Brazilian city of Rio Branco, ITTO convened an international conference on community forest management and enterprises in collaboration with several partners, including the Rights and Resources Initiative, the Global Alliance of Community Forestry, and IUCN.

The conference brought together about 300 leaders and supporters of community forest enterprises, as well as government policy makers, from around the world. One of its outputs was the Rio Branco Declaration, an important message for policy makers, international organizations and communities worldwide. We will hear more about this conference, and its outcomes, in the Committee on Forest Industry.

ITTO has also been revising its guidelines for the conservation of biological diversity in production forests, which were first published in 1993, and field-testing them in Brazil, Guyana, Cameroon and Indonesia. The draft revision will be tabled during this session. It has been prepared by an international panel comprising representatives of member countries, NGOs, the private sector, and partner institutions such as FAO, GEF, IUCN, CIFOR and WWF. The consideration and approval of the Guidelines will assist the implementation of ITTO projects and the development of national policies, and will also boost the Organization's profile in this field.

ITTO has been financing SFM projects for 20 years. Between May and July this year, the Organization convened three regional workshops in Lomé, Togo, Denpasar, Indonesia, and Medellin, Colombia to encourage an exchange of experiences among these projects and to share the lessons learned. The three workshops assembled participants from 26 producer countries, including 69 project leaders and 25 ITTO country focal points. Participants considered the workshops to be highly productive and praised the value of exchanging experiences in this way. Dr. Marc Dourojeanni, the lead consultant in the convening of these workshops, will present the lessons learned during the Joint Committees' Session.

Mr. Chairman,
I have spoken about some of the recent conferences and workshops convened under the last Work Programme, and some policy developments, not simply to catalogue them but to point out some of the important challenges that lie ahead of us. This Forty-third Session of the Council is indeed convened at a crucial moment for the Organization.

Operationalizing the ITTA 2006
First, permit me to recall that the ITTA, 2006 was agreed more than a year and a half ago and that, according to its provisions, it will likely enter into force early next year. Members invested a great deal of effort in negotiating the new Agreement and introduced many innovative features. For example, Thematic Programmes and a Thematic Sub-Account within the Administrative Account were established to, among other things, encourage additional funds with which to carry out the priority activities of the Organization. With these expectations, the early ratification of the ITTA, 2006, is highly desirable.

Of particular importance is the operationalization of the thematic programmes. The Council may wish to resume discussions it initiated during its previous Session in Papua New Guinea, when it considered the report of the Inter-Sessional Working Group on Thematic Programmes, with a view to making a decision and providing guidance on this matter.

I am delighted to note that some donor countries are already eager to finance certain activities within thematic programmes. The European Commission, cooperating with the Government of the United States, has committed nearly US$4 million to finance projects, pre-projects and activities related to CITES. Similarly, the Government of the Netherlands has just signed an agreement with ITTO specifying activities valued at US$4.3 million, of which US$3 million will be financed by the Government of the Netherlands and the balance by interested donors, with a view to implementing a programme on tropical forest law enforcement and trade. We therefore expect the thematic programmes to develop rapidly when the Council finalizes decisions on the matter.

2008-2013 Action Plan
Mr. Chairman,
Another important issue on the Agenda of this Session is the consideration of the 2008-2013 ITTO Action Plan. This Action Plan will set out the Organization's priority strategic actions for the coming six years and provide a framework for their implementation. At the same time, it will also be a public relations' document, demonstrating to stakeholders the Organization's evolving priorities and its responsiveness, dynamism and relevance. In order to assist the Council in this task, a draft Action Plan has been prepared by an inter-sessional working group of experts from member countries. It is my sense that this document, which will be discussed under agenda item 14, is a quality product that would serve the Organization well.

ITTO 2008-2009 Biennial Work Programme
The 2008-2009 Biennial Work Programme will be considered at this Session under agenda item 15 (b). A draft Work Programme has been prepared taking into account the possibility that it will span the transition between the ITTA, 1994 and the ITTA, 2006. The draft emphasises such aspects as improved cooperation with other institutions, the greater involvement of the trade and civil society advisory groups in the Organization's work, and a better alignment of the activities of the Organization on critical issues of global concern, including climate change, biodiversity conservation, poverty reduction and governance.

Delegates may recall that Council gave me the opportunity to address its Session in PNG, during which I proposed several ideas that would help speed up the implementation of the Organization's objectives and increase the impact of its activities. Some of these, such as measures to address the efficiency of technical diagnostic missions, and the greater involvement of civil society in the activities of the Organization, are reflected in the proposed Work Programme.

Climate change
Mr. Chairman,
Climate change has become an issue of critical global concern. In the past, only scientists and environmentalists talked much about it: now it is the subject of debate and policy development at the highest levels of politics and business.

With a membership that encompasses more than one billion hectares of tropical forests, ITTO can and should play a major role in forest-related strategies aimed at combating and mitigating the effects of climate change. Deforestation contributes at least 18% of man-made carbon dioxide emissions. Avoided Deforestation (AD) and Reduced Emissions from Deforestation and Forest Degradation (REDD) have therefore been proposed as one of four key elements of a global climate change mitigation strategy.

The Council may wish to define ITTO's part in this strategy more clearly. We can, and I believe must, take a leading role. Very often we hear discourses on climate change that mention forests in only a peripheral way. It is true that forestry projects carry risks in terms of the non-permanence of carbon credits or leakage, but they also offer considerable developmental and environmental returns. Through SFM, the tropical forest sector offers carbon savings as well as opportunities for poverty alleviation and biodiversity conservation. In the best interests of its members, therefore, I believe ITTO must promote and support the adoption of AD/REDD as a major element in combating climate change.

In this context I am pleased to report the involvement of ITTO in discussions related to the establishment of the World Bank's Forest Carbon Facility Partnership. ITTO will also participate in the discussions that will take place during COP 13 of the United Nations Framework Convention on Climate Change in Bali, Indonesia in December, including by organizing side-events. I would like to take this opportunity to invite members and other interested parties to participate in these side-events, further details of which are available from the Secretariat and the ITTO's website.

The fight to combat climate change also offers an opportunity to promote a more friendly relationship with nature, which, I am afraid to say, many in our current generation find difficult. Therefore, while continuing earnestly to raise awareness and develop strategies to combat and mitigate the effects of climate change, we should also boost environmental education for children. ITTO has the potential to intensify its efforts in that direction in collaboration with its partners.

The Council may wish to consider facilitating discussions on these and other relevant issues during the session in open meetings of both caucuses. In the past, this approach has proved to provide a very friendly, flexible and effective framework for exchanging views and ideas.

Enhancing field activities/Project work
Mr. Chairman,
A strong point of this Organization is its ability to translate policy decisions into action in the field. ITTO has implemented more than 800 projects, pre-projects and activities worth about US$300 million. This is a substantial amount of money and I would like to take this opportunity, once more, to sincerely thank our donors for their generosity.

However, simple mathematics shows that, when we consider the total tropical forest area in our member countries, this contribution represents only 21 cents per hectare over the 20-year period, or about 1 cent per hectare per year, in monetary terms. Should we consider this contribution against the 2.4 billion people living in tropical member countries, we would derive a ratio of 12 cents per person over the 20-year period, or about half a cent per person per year.

Now, ITTO is not the only organization dealing with environmental and developmental issues in tropical member countries. Many other organizations, including bilateral organizations, are also involved, some of them able to make much larger contributions. But ITTO has a specific mandate to promote sustainable development in tropical member countries through the sustainable management of tropical forests and the promotion of international tropical timber trade. We are unique, we are focused, we have a quality track record, and we can do much more.

There is no doubt that much more needs to be done – look at climate change, look at the Millennium Development Goals. We cannot afford to go about business as usual.

Our Organization plays an important role in the tropics. My conviction is that we have the capacity to re-double our efforts, to build steeply on the foundations established in the last two decades. To do so will require an increase in funding for projects dealing with poverty, deforestation and forest degradation, timber trade promotion and governance. The need has never been stronger, nor our capacity to deliver greater.

Strengthening planning, monitoring and evaluation
Mr. Chairman,
We must acknowledge that ITTO inhabits an environment in which the competition for funding is intense, and we need to continually demonstrate this capacity to deliver. With the new agreement imminent, we have an opportunity to strengthen our Organization's system of planning, monitoring and evaluation. I propose, for the consideration of the Council, the creation in the Secretariat of a position of Assistant Director for Strategic Planning, Monitoring and Evaluation. This position would help develop, for the information of the Council, a clear picture of the activities implemented by the Organization against the objectives of the ITTA, 2006, the Action Plan and the priorities established by the Council. It would also strengthen our project monitoring and evaluation system and assist the development, implementation, monitoring and evaluation of thematic programmes.

Before closing I wish to touch on the situation of Liberia, a country that suffered from civil unrest over a long period of time, during which it was unable to meet its financial obligations to the Organization. This issue has been before Council for three consecutive sessions. In order to allow ITTO to assist Liberia to rebuild its forest sector, the Council may wish to take a final decision on this matter at this session. In so doing, it might take into account the efforts that the Government of Liberia made to pay a total contribution of more than US$145,000 to the Administrative Account for a number of years of arrears, and the plan it has submitted to clear the remaining arrears.

Mr. Chairman,
I said earlier that the Organization is at a critical moment in its development. I have no doubt that the way we negotiate this moment will have a lasting effect. Let us be proud of what we as an Organization have achieved and ambitious about what we can do in the future. ITTO has many comparative advantages to make a difference in tropical countries, such as:
• a new, comprehensive agreement negotiated between parties;
• clear established procedures and mechanisms to implement the Organization's activities;
• an impressive track record of field achievements;
• a wide range of partners, including governments, the private sector, NGOs, the civil society and other international organizations; and
• a lean administration with a tradition of effectiveness, efficiency and responsiveness.

To this list I could also add a strong spirit of cooperation between members and a common desire to do good work on behalf of the world's citizens. We can build on the good work we, as an Organization, have already done and we can do it better in the future. I look forward to working with you, the members, to making it happen.

Thank you very much for your kind attention.