ITTO assists CITES implementation in Central America
22 July 2013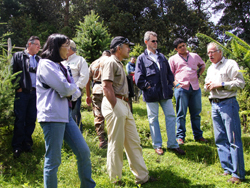 Participants from Central America and Mexico gathered at a workshop in La Antigua, Guatemala from 16-18 July to learn about the ITTO-CITES Program for Tropical Tree Species and how it can help countries to implement CITES regulations for listed tropical tree species. The regional workshop was hosted by Guatemala's government agencies responsible for CITES (CONAP) and for forests/ITTO (INAB). It was convened following the recent listing of species of
Dalbergia
(rosewood) from the region at CITES COP 16, and with the recent increase in exports of mahogany (
Swietenia macrophylla
) by Guatemala in relation to those of traditional exporters like Peru. Countries invited to the workshop in addition to host Guatemala included Belize (which sponsored the COP 16
Dalbergia
spp. listing proposal), Honduras, Mexico and Panama.
Workshop participants learned about the work of the Program to date (with a focus on Latin America), shared experiences on their management of mahogany, rosewood and other listed species, and developed ideas for proposals for assistance under the Program along with a draft regional action plan to guide future work. A field trip during the workshop allowed participants to observe Guatemala's work to conserve the CITES Appendix I listed species
Abies guatemalensis
(pinabete). The report of the workshop will be posted on the ITTO-CITES Program website in due course.