ITTO at the World Teak Conference 2013
1 April 2013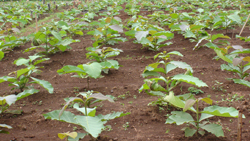 ITTO participated at the "World Teak Conference 2013 – Sharing our planet: Teak model development towards the improvement of mankind", which took place in Bangkok, Thailand from 25-30 March 2013, hosted by Teaknet, The Plant Genetic Conservation Project under the Royal Initiative of Her Royal Highness Princess Maha Chakri of Thailand (RSPG), FAO, ITTO, and IUFRO.
ITTO's presentation focused on teak prices and market trends, since ITTO has been collecting data on teak prices since 1997 on Myanmar's natural teak, through its
Market Information Service
.
The conference was attended by teak growers, timber traders, researchers, regional and international organizations from more than 35 different countries from all continents.
The conference covered four main topics relevant to the teak timber sector:
Genetics. silviculture, and utilization,
Environment, climate change and carbon trading,
Economics and investment, and
Rural development.
Proceedings from the conference will be soon posted at
http://www.worldteak2013.org/
Download ITTO's presentation