ITTO participates in IUFRO/FORNESSA Regional Congress
1 August 2012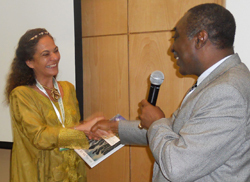 ITTO participated in the first regional congress of the International Union of Research Organizations (IUFRO) and Forestry Research Network of Sub-Saharan Africa (FORNESSA). The congress titled
"Forests and Trees: Serving the People of Africa and the World"
took place from 25th to 29th June 2012 in Nairobi (Kenya). It was sponsored by ITTO along with a number of other donor organizations and institutions. ITTO support was provided through the implementation of a REDDES Thematic Programme Activity implemented by the IUFRO Secretariat.
The achievements of relevant ITTO projects were presented in technical/scientific sessions of the IUFRO/FORNESSA Regional Congress, including:
PD 105/01 Rev.3 (F) and PD 528/08 Rev.1 (F) regarding mahogany resistance to pest attacks in forest plantations which provided the background information and data for the scientific sessions on Meliaceae Working Group and Forest Insects Group: new challenges in Africa and the World;
TFL-PPD 023/10 Rev.1 (F) and PD 620/12 Rev.1 (M) in relation to the use of DNA fingerprint as a tool for good governance of tropical forests and forest products provided the basis for discussions in the scientific sessionsof the Meliaceae Working Group; and
PD 256/03 Rev.2 (F) contributed to debates in the Invasive Alien Species Group: Economic and environmental impacts.
ITTO/AFF presented a Forest Policy Day event under the theme
"The Policy/Science interface for sustainable forest management in Africa"
on 28th June 2012. The event was attended by 134 participants from governments/organizations/institutions based in 33 countries of all five continents.
In addition to participation in all technical sessions, ITTO Executive Director Emmanuel Ze Meka presented two speeches: the first to open the ITTO/AFF Forest Policy Day, and the second at a launching of the World Atlas of Mangroves in all three ITTO official working languages (English, French and Spanish).
The Regional Congress, including the ITTO/AFF Forest Policy Day, offered a good opportunity for African forest-related scientists to share their experience and findings with each other and also with scientists from other continents. Substantial discussions were held on how to bridge science/policy results to field level practice of sustainable forest management in African countries.