Katsuhiro Kotari, eminent forester and friend to ITTO, passed away on December 25, 2011
27 December 2011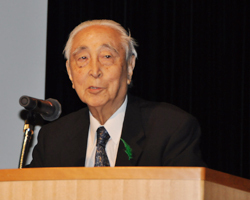 The International Tropical Timber Organization (ITTO) learned on December 27th with much sadness of the passing of Mr. Katsuhiro Kotari on December 25th 2011 at age 95.
Kotari-san, as he was known to all in ITTO, was a key member of the Japanese government team that negotiated the first International Tropical Timber Agreement (1983) in the 1970s and early 1980s. It is a testament to his stamina and dedication that he began his involvement with ITTO some 35 years ago at an age when most people are retiring from full time employment. He was instrumental in securing the agreement to bring the Secretariat of the Organization to Yokohama, and continued to support the Organization during its 25 years of existence since operations commenced in 1986-87. He served on one of ITTO's earliest diagnostic missions, to assess the constraints to sustainable forest management in Sarawak, Malaysia, in 1989-90, serving on an eminent team that included the Earl of Cranbrook, Prof. Duncan Poore and Alf Leslie. Kotari-san's dedication to ITTO and tropical forestry were clearly evident from his contributions to that ground-breaking initiative, and again 15 years later when he and Alf Leslie were re-united to undertake another diagnostic mission, this time with ITTO's first Executive Director B.C.Y. Freezailah, to Fiji. In addition to these and other vital contributions to ITTO's substantive work program, Kotari-san served as a key liaison between the ITTO Secretariat and the government of Japan. He attended and participated in many ITTO meetings both inside and outside Japan, and was one of the few people who participated in the negotiating sessions for all three International Tropical Timber Agreements (1983, 1994 and 2006). Most recently, he delivered a well-received presentation at ITTO's 25th anniversary symposium on October 28 2011 on the Organization's history and evolution.
ITTO's Executive Director, Emmanuel Ze Meka, said that Kotari-san would be sorely missed, noting that "he was one of the founders of ITTO and helped to build the Organization into what it is today. It is a fact of life that in government service and especially in the international arena that ITTO operates in, people are constantly rotated out of positions where they deal with Organizations like ITTO. We were lucky to have Kotari-san at our side for the past 25 years, well after his retirement when he could have been relaxing or pursuing other interests. We will all miss his wise counsel."
A wake and funeral service were held in Kamakura City on December 28 and 29, respectively. Testimonials received by ITTO can be downloaded below.
Download the testimonials
Download an interview with Katsuhiro Kotari "How ITTO began" from TFU 15-4