The International Conference on Biodiversity in Transboundary Tropical Forests concludes
4 August 2010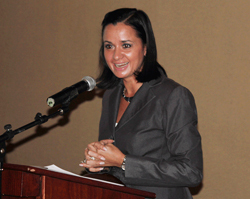 Under the distinguished Patronage of the Government of Ecuador, the International Conference on Biodiversity Conservation in Transboundary Tropical Forests took place in Quito on 21–24 July 2010.
The conference was organized by the Ministry of Environment of Ecuador, the International Tropical Timber Organization (ITTO), the Secretariat of the Convention on Biological Diversity, IUCN, Fundación Natura and Conservación Internacional-Ecuador.
The opening ceremony was presided over by H.E. Ms. Marcela Aguiñaga Vallejo, Minister of Environment of Ecuador, in the presence of Emmanuel Ze Meka, Executive Director of ITTO. About 100 participants, comprising experts from Latin America, Africa and Asia and the Pacific and representatives of the public sector, civil society and academic and research institutions, took part in the conference, which consisted of plenary sessions and working groups.
At the conclusion of the conference, delegates from African countries graciously invited ITTO and co-organizers to organize a follow-up meeting in one of the countries of the Congo Basin in 2012.
The presentation materials made at the conference are available at:
http://www.fnatura.org/documentos/conferencia_2/c_i_bosques.php