ITTO Executive Director speaks at CBD high-level segment, urges more investment in tropical forests
19 December 2022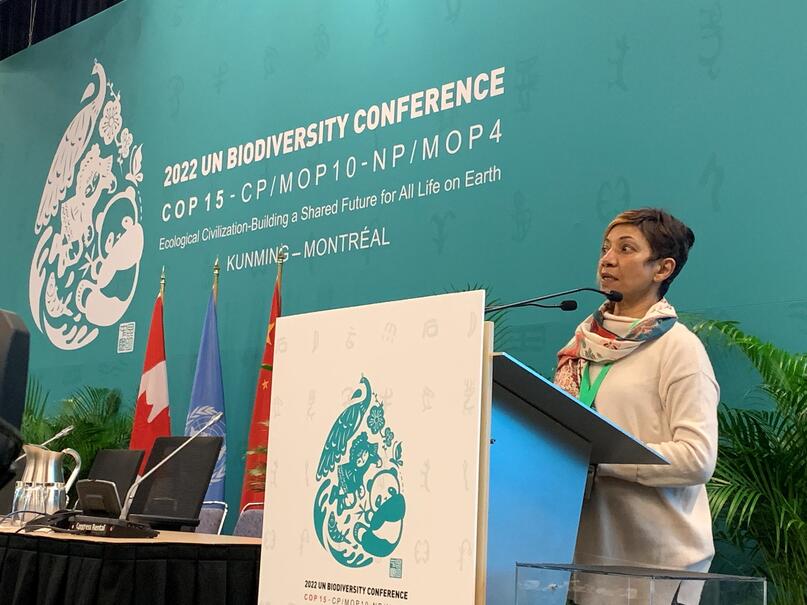 Montreal, Canada, 19 December 2022: ITTO Executive Director Sheam Satkuru has urged delegates at the 15th Conference of the Parties (COP15) to the Convention on Biological Diversity (CBD) to invest in tropical forests to "ensure the sustained longevity of the sustainable use of biodiversity, water resources, and carbon sinks".
Ms Satkuru was speaking at COP15's high-level segment (HLS), which featured interventions from a wide range of government ministers and heads of delegation. The aim of the HLS is to build and maintain political momentum in support of ongoing negotiations to develop a detailed and effective post-2020 global biodiversity framework.
Ms Satkuru said that tropical forests are increasingly vulnerable to land-use change, deforestation and forest degradation, "all of which are precipitated by global challenges affecting food, wood and energy security". She called on the global community to change the way in which it interacts with sustainably managed tropical forests, which can ensure biodiversity conservation, amongst other elements, for future generations.
"ITTO implores delegations to reach consensus on the post 2020 global biodiversity framework and resource mobilization," said Ms Satkuru. She also urged delegations to support ITTO, given its experience "in the successful implementation on the ground of scalable, replicable and transferable projects".
Investment in tropical forests would not only benefit global biodiversity and other natural values, it would help enrich the livelihoods of local communities and Indigenous Peoples, leaving no one behind, said Ms Satkuru.
"ITTO is fully committed to a nature-positive world," she said.
Download Ms Satkuru's full statement.