Fighting back against desertification and drought
17 June 2022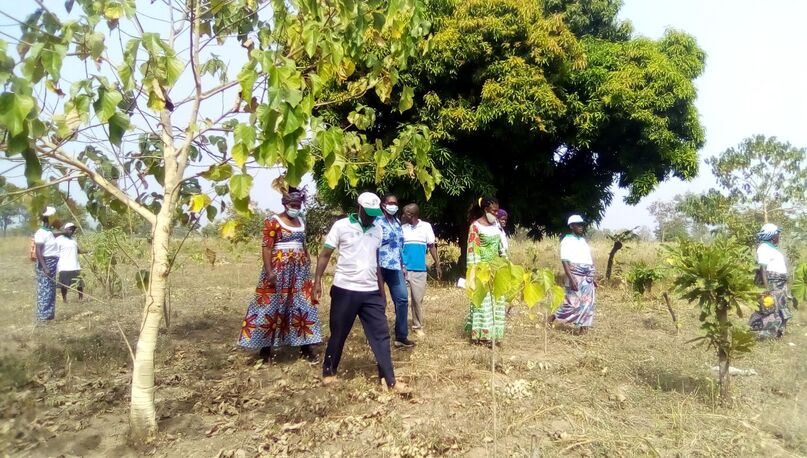 Yokohama, Japan, 17 June 2022: Women in Togo and communities in Papua New Guinea and Peru are restoring degraded drylands and helping drought-proof communities with assistance from ITTO. We highlight this work to promote the important messages of World Day to Combat Desertification and Drought.
Desertification is the degradation of land in arid, semi-arid and dry subhumid areas. Dryland ecosystems, which cover more than one-third of the world's land area, are extremely vulnerable to overexploitation and inappropriate land use. Climate change is increasing their vulnerability, along with poverty, political instability, deforestation, overgrazing and poor irrigation practices. World Day to Combat Desertification and Drought is observed every year to promote public awareness of international efforts to combat desertification; the theme in 2022 is "rising up from drought together".
Many ITTO member countries have large areas of drylands, and ITTO is working to assist them in halting degradation and implementing sustainable land-use practices. Part of the effort involves on-the-ground forest landscape restoration, in line with ITTO's Guidelines for Forest Landscape in the Tropics.
In Togo, an ITTO activity helped 100 women from two locally based groups in the Blitta and Lakes prefectures to produce nearly 30 000 seedlings of forest tree species in 12 months and use them to restore 20 hectares of degraded lands – 8 hectares of tree plantations and 12 hectares of agroforests.
The agroforests are already generating financial returns and increasing the food security of the women and their families. The tree plantation will help address local needs for wood energy and timber and provide the women with longer-term financial benefits. More broadly, such efforts implemented at the landscape scale will increase resilience in the face of climate change.
"As well as improving livelihoods, the restoration effort is helping drought-proof the community because healthy land stores more water than degraded land," said ITTO projects manager, Polycarpe Masupa Kambale. "It's one of the many benefits of forest landscape restoration, which ITTO is supporting across the tropics."
An ITTO project in Papua New Guinea has created a model reforestation framework to address key constraints to community reforestation in Central Province, where large areas of previously productive forests and woodlands have become degraded and been converted to unproductive savannahs and grasslands.
The project involves partnerships with service providers from the public and private sectors and encompasses high-value tree species, especially teak but also sandalwood, mahogany and rosewood. With project support, landowners are starting to restore their degraded lands.
"The ITTO project has helped us grow trees by addressing the main problem areas," said Tabina Rome, chair of the Gibaru Farmers' Cooperative, which was formed under the project. "These are limited landowner arrangements, limited access to training and information, and limited access to seeds and seedling."
Under the project, two communities in Central Province's Rigo District have allocated 110 hectares of grasslands for high-value plantations. To date, five model reforestation enterprises have been established and tree-planting is underway, focusing on roadside locations that will be most convenient for transporting timber to Port Moresby. Cash crops have been planted alongside the teak trees to provide landowners with early returns.
"We expect that the initial success of this project, and the model it has created, will encourage much wider uptake in the province and ultimately elsewhere," said ITTO projects manager Dr Hwan Ok Ma.
An ITTO project in Peru is developing a strategy for restoring 100 000 hectares of degraded lands on the country's south coast and thereby contributing to the region's environmental and socioeconomic sustainability. Activities include mapping degraded lands in Atiquipa, Pucchún, La Joya and Moquegua; developing 15 hectares of restoration trials; and establishing tree nurseries.
"These are just a few examples of our work in areas at risk of desertification and increasingly severe drought," said ITTO Executive Director Sheam Satkuru. "The message is clear: if well planned and implemented, the restoration of degraded drylands will increase economic, social and environmental resilience. Local success stories abound. The challenge is to scale them up, which requires equitable partnerships between governments, communities and the private sector, and long-term international support."