Improved tropical forest fire management essential for mitigating climate change
25 November 2021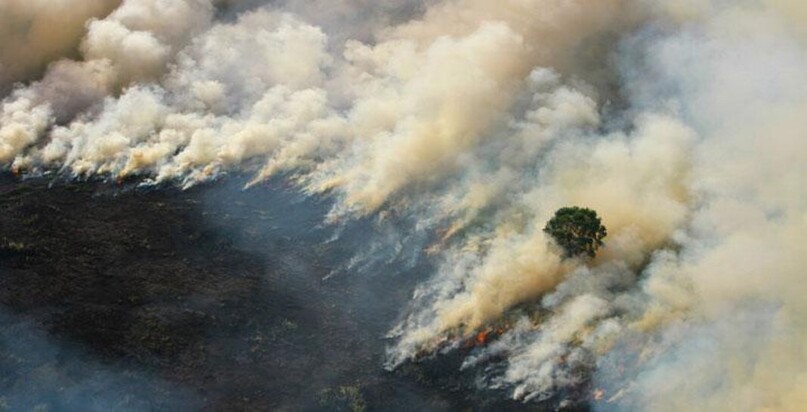 Yokohama, 25 November 2021: Awareness-raising, early-warning systems and the involvement of local stakeholders are all necessary elements of tropical forest fire management and the fight against climate change, according to participants at an event co-hosted by ITTO at the 26th Conference of the Parties to the UN Framework Convention on Climate Change.

The event, "Prevention of forest fires in the tropics: lessons from Indonesia and Peru", co-organized by ITTO in collaboration with Bogor Agricultural University (Indonesia) and the Forestry and Forest Products Research Institute (Japan), took place in the Indonesian pavilion in Glasgow, UK, on 11 November 2021. The aim of the event was to encourage networking and promote research and capacity building for preventing and combating forest fire in the tropics, and it featured early work conducted under ITTO projects in Indonesia and Peru (launched earlier this year).
Speakers at the event spoke about the importance of involving local communities and other stakeholders in crafting policies and strategies on fire prevention, suppression and post-fire management, which in turn will assist efforts to mitigate climate change.
"We all agree that forest management needs the participation and responsibility of all stakeholders, and the ongoing ITTO-funded project on fire management is helping us strengthening participation," said Syaiful Anwar, who spoke on behalf of Laksmi Dhewanthi, Director General of Climate Change in Indonesia's Ministry of Environment and Forestry.
Dr Anwar outlined Indonesia's policies on forest fire based on a new paradigm that prioritizes prevention, early warning and early response, in close collaboration with local communities. The adoption of the new paradigm coincided with a significant decrease in the number of fire hotspots and area burnt by 52% and 22%, respectively, in 2021 compared with 2020. The presentation highlighted the increasingly important role of fire brigades, especially those run voluntarily by communities, who are often "first responders" in prevention operations.
Professor Bambang Hero Saharjo, from the Faculty of Forestry in Bogor Agricultural University, pointed out that tropical forests have a vital role in buffering global environmental change by acting as giant carbon sinks. On the other hand, forest fire frequency is increasing in the tropics, and addressing this requires the various sectors work to together with clear targets, said Professor Saharjo.
Dr Yasumasa Hirata, Principal Research Director at the Forestry and Forest Products Research Institute's REDD+ R&D Center, said that forest fire is a serious threat for all nations and requires urgent attention at the local to global scales. "Responding to forest fires is both an adaptation and mitigation measure," he said, also noting that the Intergovernmental Panel on Climate Change has identified REDD+ as an activity with considerable potential for reducing emissions from agriculture, forestry and other land-use sectors.
The side-event featured two presentations from Peru. The first was a video introduced by Elvira Gomez Rivero, Director General of the General Directorate of Information, Forest and Wildlife Management in Peru's National Forest and Wildlife Service, which presented an ongoing ITTO project in Peru on fire prevention and management. The project is being implemented in the departments of Cajamarca, Huanuco, Junin, Pasco and Ucayali, which are all vulnerable to wildfire caused mainly by uncontrolled burning for agriculture. Such fires have negative impacts on biodiversity, local livelihoods and human health and contribute to climate change. The aim of the project is to reduce the incidence of fires and associated forest loss and greenhouse-gas emissions by improving agricultural and silvicultural practices and fire prevention, management and early-response protocols; increasing firefighting capacity; installing efficient early-warning and monitoring systems; improving coordination among stakeholders in combating and preventing forest fires; and increasing public awareness of fire management.
The second presentation from Peru was made by Angela Gabriela Veneros Zerpa, a Peruvian representative of the International Forestry Students' Association, who stressed that young people can be part of the solution to the forest fire crisis. "Providing education on environmental issues, forest and natural resource management, and the impacts from wildfires at primary and secondary school levels and including non-traditional allies in the education campaign against fire are ways to engage the youth," she said.
Summing up the event, moderator Sheam Satkuru (ITTO Director of Operations) said, "Devastation caused by forest fires in developing countries is also being experienced by developed nations, where the impact is far-reaching on biodiversity and mankind. Information and knowledge sharing are critical to overcome climate extremity through mitigation and adaptation measures".

Watch the webinar recording

Download the event presentations: